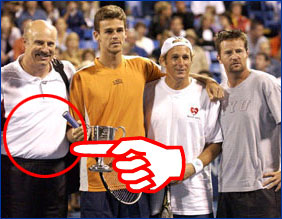 "Dr. Phil" McGraw has been slapped with a lawsuit from three Los Angelenos over his "Shape Up!" diet plan. They're seeking to expand it to a class action and are demanding refunds and additional damages. The suit alleges that the plan is worthless. It included taking 22 herbal supplements and vitamin pills a day (vitamins, unfortunately, have become the modern snakeoil) and cost about $120 a month. The plan did also advise dieters to adopt a low-calorie diet and to exercise. Duh!
The plaintiffs claim the only thing they lost was money, and that after listening to McGraw they believed they could lose weight by taking the pills alone. That WOULD be the part of the plan he would emphasize, wouldn't it? The diet, promoted through a book and television special, has since been discontinued.
So okay, Dr. Phil is a shyster but what's new among something-for-nothing diet hawkers? What's more, what the heck were these people thinking in buying a diet plan from a fat guy? Haven't they ever heard the expression: "TV Guru: Heal thyself!" Case dismissed. Now get on a calorie-restricted diet and start exercising something other than your jaws.