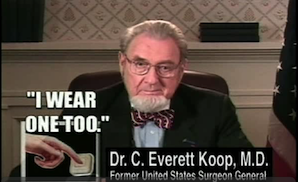 World AIDS Day has rolled around again, amid charges by C. Everett Koop that "HIV is no longer on the public's radar screen, and the result is deadly serious." That's what the 94-year-old former Surgeon General told the 2010 National Summit on HIV Diagnosis, Prevention and Access to Care in late November. The disease is becoming "the forgotten epidemic," he claimed, causing a dangerous "growing sense of complacency."
AIDS forgotten? Sure, like Sarah Palin is forgotten.
The term HIV brings up over 100 million Google hits over the just the past year. Nor is it even an epidemic. U.S. AIDS cases peaked 17 years ago, then plummeted to a steady "endemic" level within three years. Worldwide, a UNAIDS report released last week states the epidemic peaked 11 years ago in terms of cases, with infections peaking much earlier.
Remember That Explosion?
It's Koop who's worried about being forgotten. So let's indulge him. Let's recall that he was among the worst perpetrators of AIDS mass hysteria, which I first debunked in a 1987 article and then my 1990 book The Myth of Heterosexual AIDS.
In 1987, just before my article appeared, Koop popularized the term "heterosexual AIDS explosion." That same year he told People magazine there wasn't "any chance that the AIDS threat might be exaggerated" and that "among heterosexuals there are going to be 20 times as many cases between now and 1990." Note the absolute certainty in the wording, which typifies pseudo-experts and activists, as opposed to the guarded terminology used by real experts such as "some estimates indicate" or "could be."
Koop's 1988 "Understanding AIDS" report, mailed to every household in the nation, was aimed at democratizing a disease with specific risk groups caused by extremely specific risk factors. A heterosexual couple appears in the first picture, with the first captioned image that of what appears to be a lesbian saying AIDS is also a woman's disease. Lesbian-to-lesbian sexual contact as a risk factor? "To date there are no confirmed cases," declared a 2008 CDC report 18 years later.
I warned 23 years ago that the emphasis on middle-class white heterosexuals was taking badly needed attention away from where the real growth was, blacks. Didn't Koop have access to this information? Today American black males have 30 times the HIV infection rate of white females.
Still, did Koop and his alarmist allies help at all? There's no evidence whatsoever. HIV transmission rates peaked in 1981, the same year the Centers for Disease and Control and Prevention (CDC) realized something unusual was happening. Only six years later did federal prevention efforts began. (Not surprisingly, if you understand how the public health establishment works, I got these peaking data from a CDC document that states in huge blue letters: "DRAMATIC DECLINE INDICATES SUCCESS IN HIV PREVENTION." Right.)
Koop forsook his job as the nation's top doctor to become an activist. So doing he became a darling of the media, activist groups, and the wine-and-cheese set. And we all continue to pay a horrible price for it.
FORGOTTEN?
As to "forgotten but not gone:"
Yet HIV/AIDS will receive over $3 billion in the 2011 federal research budget. That doesn't include an entirely separately funded "infectious disease" category. Granted, it's shy of the 100 billion gagillion that Dr. Evil wanted in order to ransom the earth, but:
HIV/AIDS gets about $200,000 per patient death in the NIH research budget, according to calculations from the FAIR Foundation (Fair Allocations in Research). We spend 21 times more per AIDS death than cancer death. Pancreatic cancer will strike about 43,000 Americans this year and is essentially a quick death sentence. It gets 1% of the funding per death as AIDS.
Alzheimer's and Parkinson's are the nation's sixth and 14th-leading causes of death of death respectively, yet HIV/AIDS gets 34 times and 25 times more per fatality respectively.
The disparity is all the worse when trends are considered. While AIDS cases and deaths remain level, those of Parkinson's inexorably climb while Alzheimer's fly off the chart.
It could be a modern blessing: "If you contract a disease, may it be as 'forgotten' as AIDS." And no, it's not homophobic to point out that AIDS is essentially 100% preventable while none of these other diseases is preventable at all.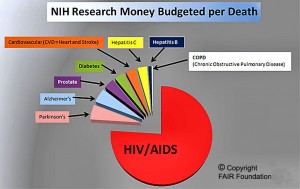 AIDS is like Pacman gobbling up the federal disease research budget.
Further, the vast majority of federal AIDS spending can't possibly lead to a cure or vaccine or prevent a single new case. Of the approximately $26 billion budgeted this year for HIV/AIDS, only 11% will go for research and 3% for prevention. The rest is care, cash and housing assistance. Federal non-research AIDS spending far exceeds the combined research grant budget for all diseases combined–including AIDS! This even as NIH has to turn away over three-fourth of grant applicants.
That's what passes for "compassion."
And last month a new study was announced that indicates that a combination of two drugs acts as a highly "preexposure prophylaxis" when taken regularly. Toss those condoms, guys! But the cost is $4,000 – $14,000. And guess who it's being hinted should pay for prescriptions for the nation's entire population that engages in high-risk activities? Yes, give and give generously. Uncle Sam insists.
Why such grotesquely favorable treatment for AIDS? Partly it's simple inertia. But much is because a huge AIDS bureaucracy now exists, with vast numbers of organizations and their employees voraciously feeding at various international, national, state and privately funded troughs.
Truly forgotten diseases are everywhere, though a better term is simply "unrecognized." Nephritis, nephrotic syndrome and nephrosis are the ninth leading cause of death in this country, causing three times as many deaths as AIDS; but probably most people don't even know what these kidney diseases are. "Nephritis" got 1.3 million Google hits over the past year. Far more important, fewer than 2,000 published medical papers appear on Medline. Yet in the past year alone, there have been about 21,000 concerning HIV.
The lesson here, Koop said in his talk with no hint of irony, is "If you tell people the truth, in a very factual way, they will act."
No, the lesson is you can indeed fool most of the people most of the time. And then become a hero for it. Another lesson is disinformation can cause indefinite devastation. Nobody knows how many people have already died because disproportionate AIDS spending has robbed other diseases of badly-needed funds, much less those who will in decades to come. But they are the ones who have truly been forgotten.