It was the Camry in a car wash nightmare. With her two grandchildren in the car, Doris Dresner went through the wash in Columbia, Mo., with the gear in neutral. At the end, she stepped on the brake and put the car in drive. Suddenly it lunged forward. She slammed the brake, but the car just went faster.
Dresner swerved to avoid a fire hydrant, but nonetheless it ripped off her left fender. Still accelerating, the car shot across the street, jumped the curb and went airborne before landing in a parking lot. Fortunately everybody was OK.
A columnist who only wrote about this a few weeks ago (though the accident happened in 2005) declared, "I suspect there were people like Doris all over the country—one here, one there." And he's right. But for all the wrong reasons.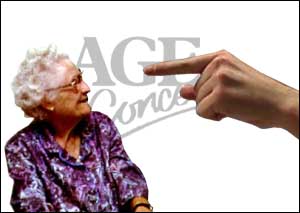 Toyota should be ashamed for building cars that pick on seniors citizens!
Doris Dresner, you see, is 80. The columnist claimed her long driving record should allay suspicions that she hit the accelerator instead of the brake. In fact, her age supports that suspicion. Data regarding fatal accidents "connected to" Toyota sudden-acceleration complaints show that the trial lawyers really should be suing the company for age discrimination. That or something else important is happening that might explain much of the sudden acceleration phenomenon.
In late February the Los Angeles Times published an analysis of all 56 Toyota fatality-associated sudden-acceleration cases over last decade, using information from the National Highway Traffic Safety Administration (NHTSA) and elsewhere. The Atlantic's Megan McCardle did supplemental research on ages. She found the overwhelming majority of drivers were older than 55.
Unfortunately McCardle and some Web sites seem to think these data alone are a "smoking gun" implicating driver error as a major contributor to the alleged sudden-acceleration accidents. But they're not. Among several caveats, by far the most important is the small sample size. For these 56 cases to have any meaning there would have to be larger data sets supporting a link between age and sudden-acceleration reports. It would also greatly help if there were a plausible biological explanation.
As it happens, there are both—though presenting them will surely bring down the wrath of the AARP and Gray Panthers.
A 2007 Government Accountability Office study found that per mile driven, drivers ages 65 to 74 are more likely to be involved in a fatal crash than all but the youngest drivers. Indeed, those 75 and older were almost four times more likely than those ages 45 to 64.
Yet data also show that the elderly are far likelier to wear safety restraints than younger people and far less likely to drive while drinking. Thus even as older drivers consciously try to be much safer than younger ones, they still cause vastly more fatal crashes.
And sure enough the elderly are also vastly more likely to report accidents they believe to be caused by sudden acceleration.
A 1996 study of such incidents by NHTSA's Office of Defects Investigation regarding General Motors vehicles found that drivers over age 69 had almost seven times the number of such accidents per driver as those under age 38. This is all the more remarkable in that seniors account for less than 3% of all miles driven, while those under 38 account for 50%.
Physical limitations like limited peripheral vision and slower reflexes hardly explain these. What does, says UCLA psychologist Richard A. Schmidt, is a "noisy neuromuscular process." Schmidt investigated more than 150 cases of unintended acceleration in the 1980s, many of which became the subjects of lawsuits.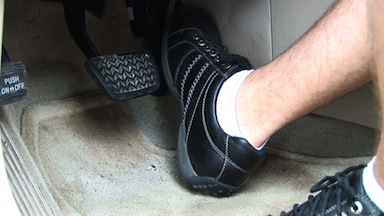 Studies show that the elderly are vastly more likely to hit the accelerator when they think they're hitting the brake, but it's something people of all ages do.
"The driver does not really confuse the accelerator and the brake," explained Schmidt in a recent New York Times op-ed. "Rather, the limbs do not do exactly what the brain tells them to." The "noise" causes them to perform an "action slightly different from the one intended. The driver intends to press the brake, but once in a while these neuromuscular processes cause the foot to deviate from the intended trajectory."
At that point panic often kicks in, so the driver doesn't shut off the ignition, shift into neutral or use the parking brake. Instead he or she just presses the ersatz "brake" harder and harder. And the car zooms faster and faster. Just like Dresner at the car wash.
Schmidt disagrees with the "widespread belief that computerized engine management systems or electronic controls may be to blame." That's because the massive number of complaints against the Audi 5000 in the mid-1980s—driven by media misreporting—"happened before the arrival of drive-by-wire controls and computerized engine-management systems."
Indeed, per car sold the Audi 5000 had 100 times the sudden acceleration complaints Toyota has received [586/100,000 for Audi]. Yet a later NHTSA study, along with others in Canada and Japan, found every one to be groundless.
Clearly some Toyota sudden-acceleration incidents resulted from defects. But, says Dan Edmunds, director of automotive testing for the authoritative Web site Edmunds.com, "I haven't seen anything described in the NHTSA complaints that shouts out anything other than human error, floor mats and sticky pedals."
Indeed, Edmunds.com is offering a million-dollar prize to whomever can find what some—including trial lawyers, their paid "experts" and drivers reporting sudden acceleration incidents, like James Sikes, whose runaway Prius hoax I exposed on this site—are describing as "the ghost in the machine."
GM, Audi and now Toyota? Hmm... Still, driver error is so, ya know, like, boring! And so the witch hunt against Toyota and the search for will o' the wisp cause of sudden accelerations must continue.