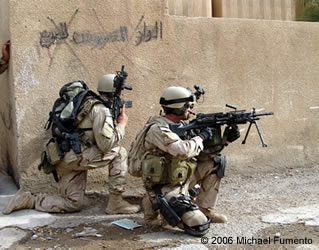 Petty Officer 2nd Class Michael Monsoor (right) during a fight in the Mulaab, Ramadi
April 9, 2008 — APRIL 2006: I was embedded as a photo-journalist in the meanest part of the meanest city in Iraq — Ramadi.
Here the bad guys ruled. Leaving your base camp virtually guaranteed a fight. I got one the first day.
When shots rang out, I jumped into the street and started snapping away. I looked back and saw a tall Navy SEAL seemingly pointing his MK48 medium machine gun right at me. In fact, he was protecting me and his teammates.
Six months later, he sacrificed all to save those other men. Yesterday, Navy Master-at-Arms 2nd Class Michael Monsoor was given the nation's highest award for combat valor — the Medal of Honor.
The 19-man platoon from SEAL Team 3 split into two groups, each grabbing a rooftop — the "high ground" in urban warfare. The attackers never had a chance. "Those SEALs fight like machines," I later wrote.
But machines don't die, and within weeks a member of the platoon, Aviation Ordnanceman 2nd Class Marc Allen Lee, became the first of the elite warriors killed in Iraq.
Six months later, I returned to the same part of Ramadi, already tamer in part because of the actions of my embed unit, the first battalion of the 506th Infantry Regiment, 101st Airborne Division (Air Assault), and of the SEALs.
Yet I arrived to hear bad news: The platoon had just suffered the death of the second SEAL lost in Iraq.
On the morning of Sept. 29, 2006 - St. Michael's Day — 25-year-old Monsoor was standing as lookout at a sniper post on a rooftop outcropping between two other SEALs who were lying in the prone position. They were helping drive back an attack and had already taken out two of the enemy.
Suddenly a grenade bounced off Monsoor's body armor chest plate and hit the floor.
Monsoor knew that by then the fuse was too short to allow the grenade to be tossed out. He also knew the prone SEALs couldn't move. He was the only one in position to save his own life—but he decided otherwise.
Without hesitation, he smothered the blast with his own body. The other SEALs still sustained serious wounds, making it clear that Monsoor had saved them.
Yesterday, in one of the most secure areas of the world, the White House, it was time for this strange reunion, to celebrate the fourth Medal of Honor given for actions in Iraq war — all posthumous.
The survivors of SEAL Team 3 showed up, including one blinded in both eyes. Representatives of 1/506th were present, as well as various dignitaries, to hear President Bush praise Monsoor's actions and give the medal to his proud but weeping parents:
"By his undaunted courage, fighting spirit, and unwavering devotion to duty in the face of certain death, Petty Officer Monsoor gallantly gave his life for his country, thereby reflecting great credit upon himself and upholding the highest traditions of the United States Naval Service," his citation read in part.
But the SEALs have their own ways of honoring their fallen. In an earlier action, for which he was also decorated, Monsoor had saved yet another SEAL's life. His Aunt Patty sent me a photo she'd received of a tattoo that the SEAL had imprinted on his arm.
The tattoo shows Monsoor with his machine gun and in full battle dress, but also wearing angel wings. Alongside it is the prayer to Saint Michael, which some Catholics recite in defense against the forces of darkness. The prayer entreats the Archangel to "defend us in battle" and be our protection against wickedness.
A Medal of Honor is not beatification. But somehow the prayer fits. And it's not just those men who were in that sniper post who owe him our greatest thanks.