Secretary of Transportation Federico Peña got his job by wasting $10 billion on the biggest public works disaster of modern times – an airport worse in every way than the one it replaced.
---
"There is greatest practical benefit in making a few failures early in life." When Thomas Henry Huxley wrote that in On Medical Education, presumably he meant that mistakes were a learning experience.
But in that strange twilight between politics and reality, sometimes mistakes themselves can be a benefit. Consider Secretary of Transportation Federico Peña's monumental mistake: the soon-to-be-completed Denver International Airport.
Both Peña and President Clinton cited Peña's efforts — as mayor of Denver from 1983 to 1991 — to build the airport as a factor in Peña's appointment to the Department of Transportation. In his speech nominating Peña, Clinton said, "His legacy includes the new Denver International Airport, which I believe will be the largest in this country by a good ways."
When Peña was picked to be the "cluster coordinator" for transportation issues during the transition period, a statement from the transition team declared that Peña had been involved in many projects to improve Denver's infrastructure, "including the construction of Denver International Airport, the world's largest (sic), to be finished in 1993." Peña's explanation was that "Denver's investments paid off. I believe that's the reason for (my) being asked to do this."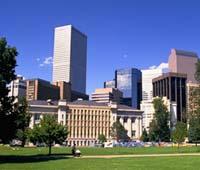 Denver, Colorado
But Denver's investments have not paid off, at least not for the city. While Peña promised to make Denver great, the city finds itself merely a great debtor, its jewels sewn into a massive tent-like structure on the windswept plains east of the city. Occupying a parcel of land twice the size of Manhattan, Denver International is the nation's largest public works project. Some have called it the nation's largest white elephant. Others have called it Federico's Folly.
At first billed as "the world's second-largest airport," it has steadily shrunk in size even as its budget has ballooned — from the $1.7 billion Denverites voted for to an actual cost of at least $10 billion. It appears that it will be worse in almost every practical way than the perfectly serviceable airport it is replacing. And the man responsible for it is now responsible for billions in federal transportation expenditures. As a reporter for Denver's Rocky Mountain News put it, "Clinton essentially said: Do what you did in Denver on a national scale."
Certainly Peña can't take all the credit for the airport. It was supported by both Denver newspapers as well as the governor and the entire Colorado congressional delegation. But it isn't for nothing that the route from the interstate to the airport will be named Peña Boulevard. No blood test is necessary; Denver International is his baby.
And certainly the airport isn't the only reason Peña is in the cabinet. It has been widely suggested that Clinton — having met environmentalist resistance to appointing Hispanic Rep. Bill Richardson (D-N.M.) to the Interior Department position and instead appointing a very green but nonetheless white Bruce Babbitt — felt compelled to appoint a secretary of trasportacion.
But if Peña couldn't have made it without the pedigree, he couldn't have made it without the airport, either. The Texas-born Peña, 46, has always had a knack for taking advantage of a situation. Although he benefits politically from his Hispanic surname, he is far from being of humble birth. True, his parents made their living from cotton — but not picking it, brokering it.
The Nightmare Before Christmas
Other than the overwhelming support he received from the city's Hispanic population, Peña probably owes his getting elected mayor to a Christmas Eve blizzard — the worst in sixty-nine years — that dumped almost three feet of snow on some parts of the city and tied the area up for days, making the incumbent look inept.
But when a few years later a blizzard dumped a considerably smaller amount, again the city became snarled, this time because Peña had the novel idea of sending heavy city trucks out to simply pack down the snow by driving over it. All it did was create ruts, which then froze into place. Fortunately for him, it was not an election year.
Fortuity also marked Peña's administration. Besides the airport, Clinton credited his nomination to the U.S. Conference of Mayors' having given Peña its City Livability Award for reducing its Clean Air Act violation days from "150 a year in the 1970s to 3 in 1990." But while violation days for Denver did drop from 125 in 1972 to three by the time Peña left office, they had already steadily declined to 31 the year before he was elected. Denver's air is cleaner for the same reason the air above every major U.S. city is cleaner: requirements of the 1970 Clean Air Act dramatically reduced automobile emissions.
Peña's tenure was marked by expensive megaprojects, ranging from hosting a Grand Prix to building a convention center and a baseball stadium. Far from attracting new bookings, as promised, the convention center has seen a tremendous drop in bookings since it opened, a decline that set in long before any talk of gay boycotts. The Grand Prix was a flop. For two years it tied downtown traffic in knots, for which Denver had the privilege of handing over $2.5 million in tax revenues to the promoter.
The baseball stadium is still under construction. Peña said the common theme of these projects was to help pull America's 23rd largest city out of an economic slump and to make it one of the country's most spectacular. As he exhorted in a newspaper commentary, "Denver is poised for greatness. As the alliance forged by the broad coalition of airport supporters continues its work on advancing Denver into the future, there is no end to what we can accomplish, or how high we can fly."
Critics say, however, that the common theme was for Peña to soak the citizens by handing over city funds to businesses, especially contractors, that took advantage of Denverites' self-consciousness about being a "cow town," and worries over a temporary job bust at the end of an oil boom. Chief among those critics is Rocky Mountain News columnist Gene Amole, who has inveighed incessantly (some say obsessively) against the new airport. Commented Amole in a 1989 column, "The way the whole thing is shaking out is that big government, big business, big labor, big developers and the big media are one side, and the little guys who actually live in this town are on the other."
Flight Delay Fibbery
Peña's airport plan began in 1985, when after months of secret discussions he announced that instead of expanding Stapleton International, the current airport, the city would build a new one. He gave two reasons.
First, flight delays, especially in bad weather, were allegedly becoming intolerable at Stapleton, costing it business as a hub. Peña said Stapleton was "an embarrassing bottleneck, both in our national transportation system and our ability to have an efficiently run airport to build a strong, stable economy."
Second, Federal Aviation Administration (FAA) projections indicated that if passenger use of Stapleton continued to escalate as it had in the first part of the 1980s, and if Stapleton didn't expand, then early in the twenty-first century the airport would no longer be able to handle the traffic.
Yet Stapleton was in the process of expanding. Even after Peña began his airport campaign, Stapleton built a new runway, a new concourse, and a new commuter terminal.
Moreover, Stapleton's flight-delay record in recent years has been among the best in the nation. According to the Federal Aviation Administration, in the year the airport was submitted to a referendum, 1989, Stapleton had 27 flight operations per thousand delayed fifteen minutes or more. By comparison, Atlanta's Hartsfield International, which has only one hub, had 25, New York's JFK had 76, Chicago O'Hare 88, Newark 98, and LaGuardia 115.
Two years earlier, in a 1987 report, the city itself boasted that "Denver ranks below most other major U.S. airports in number of delays per thousand flights. In fact, the national average for delays went up in 1986. Denver's average went down."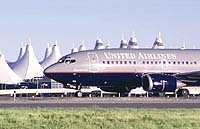 Denver International Airport
Instead of looking at the actual data, however, the city cited a five-year-old 1984 FAA projection. The problem with the projection was that it couldn't have taken into account that Stapleton added a new runway in 1986. While not full-length, it freed up the longer runways to handle more large jets, and significantly eased congestion. Critics have contended that this runway could have been made longer, but that Peña, having already decided to go with the new airport, prevented it. Airport officials say that existing structures prevented it from being made any longer, though one could argue that compared to the billions of dollars the new airport would cost, relocating those facilities would have been a bargain.
Further, yet another runway was planned for Stapleton, to be built on the adjoining Rocky Mountain Arsenal, which would have increased capacity and decreased delays even further. Peña blocked its construction, along with that of terminal improvements. He initially said it was because the money should be devoted to a new airport.
Later, though, city officials said it was because the Arsenal land was too polluted. Denver International critic Michael Boyd, president of Aviation Systems Research Corporation, a Colorado consulting company, responds that this doesn't ring very true. "Now they are going to put a park there," he says.
The main cause of the delays Stapleton does have is that, during winter bad weather, airport officials will sometimes shut down one runway for fear of interfering with planes on another nearby runway. (Inclement weather has closed the airport as a whole only three times in its history.) Ironically, due to an FAA error in applying sea-level standards to a mile-high airport, the runways at the new airport have also been built too close together to comply with regulations for full flexibility in simultaneous take-offs and landings. To resolve the problem, the airport will use "quick-scan" radar to efficiently keep track of flights. This type of radar, though relatively new, was already in use when the building of Denver International began.
Although the distance between the new airport runways is still greater than that between Stapleton's, this system would also have helped smooth out operations at Stapleton. Said Boyd, "It would have given Stapleton the same capacity that the new airport is supposed to have."
In selling the airport idea to Congress, Peña said that eliminating the alleged delays at Stapleton would save the airline industry $120 million a year in operating costs. But according to Aviation Systems Research Corporation figures, with emplanement figures going up an estimated $9.50 per person, at 15 million passengers in 1994 the increased cost to save that $120 million will be $142.5 million.
Where Have All the Passengers Gone?
In the early 1980s, as a result of deregulation and lower fares, the airline business boomed and hubs did especially well. Stapleton's traffic reached a record-high 34.7 million passengers, and the FAA predicted a steady increase in Denver traffic to 72 million by the end of the century, with Denver becoming the nation's second-busiest airport.
But the FAA didn't realize that the sudden burst in airline ridership was essentially a one-time explosion, and it failed to look at the trends in airport hubbing. Long before the first shovel of dirt was dug at the new airport site, it was becoming clear that the superhub concept was in danger. The same deregulation that led to vastly increased ridership led to decentralization of hubs. In 1978, when the airlines were deregulated, there were only four hubs. By 1990 there were thirty-five, many of which had lower landing fees than Stapleton's and were siphoning off business.
An Aviation Systems study warned that the "political focus" on building superfluous hubs was threatening to make "airport building the S&L scandal of the 1990s." It noted that there is excess potential hub capacity already, including Kansas City, Dayton, and Atlanta, and that the big dollars are going to megaprojects like Denver's, while "small cities must literally beg to get an instrument landing system" budgeted to their airports. Denver International, said the report, was characteristic of the fact that "America is planning new airports for the 1980s, not the 21st century."
Also contributing to the decline was the folding in 1986 of Frontier Airlines, one of the three airlines using Stapleton as a hub. Backers of the new airport have never even claimed that they could get an airline to take Frontier's place as a third hub. By 1990, usage of Stapleton had dropped about 20 percent below its high point. While Stapleton traffic began picking up slowly in 1991 and increased an additional 9 percent last year, it is still operating at only half its capacity. And most likely, building the new airport will end up reducing air traffic through Denver.
To sustain themselves, airports need to charge fees to the airlines, which are worked into the cost of airline tickets. The current rate at Stapleton equates to a little less than $6.00, and originally Denver International proponents claimed it would be no higher at the new airport. Now the number airport analysts are tossing around is $15.50, which is based on a steady increase in passengers over those currently using Stapleton. The magic number is $20, since the new airport's contracts with both United and Continental allow them to terminate or renegotiate at that point. Presumably they would do the latter, and extract even greater concessions from the airport at an even greater cost. Some critics of the new airport claim that the $20 mark is almost inevitable, and may even be exceeded. When airport officials negotiated gate leases with American Airlines, they insisted on upping the $20 threshold to $25.
Aside from affecting airlines' abilities to terminate or renegotiate their contracts, the higher fees could encourage passengers to route their trips through other cities, leading to a "death spiral": higher fees resulting in fewer passengers resulting in higher fees, and so on. About 55 percent of Stapleton's passengers are classified as connecting, and to connecting passengers one airport is usually as good as another. Thus, independent of air traffic trends, the new airport could be slicing its own throat.
But passengers originating out of Denver will be the real sufferers. Consider the cost of flying round-trip for a three-day weekend to Los Angeles, currently available at the best rates for about $200. The new airport has already raised that cost by $3, will probably raise it by another $15 or more in airline fees, and by $18 in parking costs or $60 in cab fare. (More on the increased parking and cab fares later.)
For the vacationer who parks, the airport has increased the cost of his trip by 18 percent over the original ticket price; for someone taking a cab it has increased 40 percent. Such increases can have a tremendous effect on such an elastic commodity as leisure airline travel.
Noted a spokesman for the Air Transport Association in Washington, "The marketplace is very sensitive to increased ticket costs." He said, "We see business loss for every dollar that fares increase." Indeed, the cut-rate Southwest Airlines, which specializes in relatively short hops, has said it will not use the new airport because the per-passenger costs are too high. (It should be noted, however, that Southwest is not currently flying out of Stapleton, either.)
In December 1990, Continental filed for bankruptcy protection, putting in doubt whether it would ever operate out of a new airport — although more recently it said it is fairly confident of pulling out of the red. In February 1991, the FAA released new traffic projections for the new airport, saying that by 2000 it would be the nation's fifth-busiest, rather than the second-busiest, with 44 million passengers a year rather than the 72 million it had earlier predicted.
At about the same time, citing the Persian Gulf War and the ailing airline industry, Peña scaled back the new airport from 94 gates to 85. It now stands at 88, twenty fewer than Stapleton has. Denver International will open with five jet runways, compared to the six at Stapleton. As airport officials admit, the lower number of gates is because even many of the Stapleton gates were no longer needed for lack of air traffic. They do point out that many of the new gates are wider than those at Stapleton, giving them great flexibility.
Thus, even as the airport budget ballooned, the size shrank, leading Gene Amole to dub it "The Incredible Shrinking Airport." Still billed as the second-largest airport in the world, in fact it had become the second-largest in Denver. (And the claim of second-largest was never much more than an ego stroke. It is not based on passenger capacity or flights handled, but on acreage, as the airport's few structures and runways are surrounded by a vast expanse of land for which the city paid dearly. This is like putting a refrigerator into an otherwise empty convention center and calling it the world's largest kitchen.)
The bottom line is that last year Stapleton produced revenues of about $164 million, while Denver International will need at least $340 million to break even. If it doesn't, it won't be able to pay off its bond obligations. When pressed on this possibility, Aviation Director George Doughty said flatly, "If the airport revenues are inadequate, the bonds will not be repaid." This sounds like an easy out for the city, but it could devastate its ability to sell bonds in the future. The bondholders don't seem particularly worried, since the bonds are currently selling above their face value. But at least one bond-rating agency, Kemper Securities, Inc., rates the bonds at lower BBB, one rank above junk.
The economics of the new airport are so bad that even if it were completed it would be fiscally smarter to just let it rot and to continue to use Stapleton, using Stapleton profits to pay off the bonds. The idea of the public demanding a switch back to Stapleton is one that city officials seem to fear — they are allowing Continental to close up its maintenance facility and transfer 1,500 jobs out of state rather than to continue to let it operate by ferrying planes from Denver International to Stapleton. Asked why an airport built "in order to create jobs" would prompt such a thing, Continental corporate affairs spokesman Dave Messing said, "It was felt it would be a foot in the door to the possible resurrection of passenger service at Stapleton."
Reading Peña's Lips
Peña adamantly opposed submitting the airport to a referendum, as did Gov. Roy Romer in 1988 when he threatened to "roll over" and "crush" any attempt to let the people decide on the project. But influential state politicians threatened to start a petition drive and city council members threatened to block the project if no referendum were held, and Peña and Romer backed down.
Business interests behind the airport managed to raise four times as much money as the opposition and the referendum — worded to begin, "In order to create more jobs . . ." — passed handily.
Responding to a lawsuit, the Greater Denver Corporation, an arm of the local Chamber of Commerce, later released a list of political contributors to the airport for which it had served as a funnel. The greatest contributors by far were the area utilities, with US West Communications giving $400,000 and the electric utility, Public Service Company, kicking in $300,000.
As their ability to make such heavy political contributions indicates, the Colorado legislature allows both utilities to use their monopoly status to reap exceptionally large profits, and both saw the new airport as a cash cow. City council member Dave Doering, a strong supporter of the new airport, nevertheless argued in 1990 that the city was entering into a "sweetheart deal for the utilities," in which Public Service would remove high voltage lines at a cost to the utility of about $16-20 million, but in exchange would gain up to $170 million over the next twenty years. He favored either generating power on-site on land adjacent to airport land or at least having the city own the utility equipment at the airport rather than "permanently lock the airport into a higher tariff." He lost.
Sweetheart deal or no, Denver's power usage is estimated to increase by a third from 1991 to 1994, almost exclusively due to the new airport. As for US West, it has already netted a $24 million dollar fiber-optics wiring contract from the airport, and there could be plenty more where that came from.
One owner of land adjacent to the airport site that stood to make a fortune selling to hotels and other businesses contributed $95,000 to Greater Denver. This was the infamous Silverado Savings & Loan, co-directed by George Bush's son Neil.
A more direct beneficiary was MDC Holdings, a major contributor not only to Greater Denver but to Peña's mayoral campaign. The state attorney general found in an investigation that MDC had sold the city 100 acres for the airport. He also found that "MDC Holdings and its officials committed numerous criminal violations" in raising political funds for the airport by "extorting" subcontractors to raise contributions, but that the company could not be prosecuted because the statute of limitations had expired. MDC contributed big amounts to the 1987 mayoral campaigns of both Peña and his Republican opponent. The Greater Denver Corporation also got a direct piece of the action when the city, without going through the bidding process, gave it $325,000 to promote the airport.
The most effective tool for ensuring a healthy margin of victory for the airport was simply lying to the electorate as to what it was getting and what it was going to be paying for it. The referendum stated that the price of the airport would be $1.7 billion. But shortly after the vote, an investigation by a Rocky Mountain News reporter showed that the city had actually hidden $281 million in construction costs for an automated baggage system, and that the city knew about this before the vote but simply left it off the claimed price tag. Other costs that the city should have known about were also left out of calculations.
Both United and Continental conducted independent evaluations and estimated that the actual amount that would be needed would be $2.7 billion. Aviation Director George Doughty scoffed at the projections, saying the only way it would cost that much was "if you gold-plate the terminal building." Alas, the city's official figure is now $2.7 billion with no gold plate in the terminal to show for it. Doughty resigned last year.
But the mushrooming from $1.7 billion to $2.7 billion wasn't the worst of it. It turned out those figures included only design, construction, and construction management. It did not include such "incidental" items as the purchase of the land itself or capitalized interest on the bond debt.

Though the city has upped its figure only to $3 billion, the actual amount budgeted to be expended by opening day is now about $4.4 billion. Further, City Auditor Bob Crider's annual report includes $5.6 billion in bond interest, hardly an incidental cost. All of which pushes costs to about $10 billion, or almost six times what voters were told the project would cost.
And even that figure could rise. The airport has now fallen behind schedule. Earlier this year, the official opening date was moved from October to December. As this article goes to press, the date has been pushed back even further — to March 9, at the earliest. Meanwhile, starting in January, the city will be paying $500,000 a day in interest on outstanding bonds on the airport.
Peña presented the costs as practically irrelevant, since Denverites weren't going to have to pay. In commentaries printed in both local newspapers he wrote, "The airport is user-funded. Denver taxpayers will not be required to support its construction or operation." But although Coloradans would end up paying little for the airport in direct taxes, they would be clobbered by other costs.
Part of Peña's free lunch scheme was to wrest a $501-million commitment from the federal government in 1990. The local papers celebrated his coup in getting the whole country to pay for Denver's airport. There was only a hint that Denverites might have to pay back that money through a surcharge on passengers, and Peña quickly squelched it. "Right now, we don't intend to impose a surcharge because there is no need for it. Today we do not contemplate it. It's a possibility but I don't want to speculate on hypothetical circumstances," he said. Two years later, the hypothetical circumstances kicked in, with Denverites and those changing planes at Stapleton paying a $3 head tax, which will probably remain in effect for the next three decades.
Thus, far from not costing Denverites more, the new airport began costing them more a year before the structure was even scheduled to open. The $3 doesn't count against the maximum of $20 per passenger allowed in the contracts with United and Continental, and makes Denver International even less competitive.
As the Crow Flies
Coloradans will pay most dearly for the airport — trip after trip, year after year — in the time and the money it will take to use it. City Hall had told voters that the new airport was to be 18 miles from the center of downtown. But when someone actually measured the distance, they found it would be a 24.5-mile trip. The city responded that the 18 miles was "as the crow flies." With a certain degree of chutzpah, Peña said that before the referendum he had made it no secret that the distance was "between 23 and 24 miles," yet even for some time after the News expose the city continued to use the 18-mile figure in press releases, fact sheets, and reports on the airport. Finally, it began using a figure of 23 miles.
By contrast, Stapleton is 5.5 miles from downtown. The 24.5-mile distance will make the downtown-to-airport distance the second most remote in the nation, with only Washington's Dulles beating out Denver International, by six-tenths of a mile. And Dulles, near a major population center in Northern Virginia, is more convenient for some users; Denver International is farther away from virtually everybody. Moreover, Washingtonians have the option of using close-in National Airport, three miles from downtown, and many of them do use it rather than trekking out to Dulles. Indeed, every city that has an airport more than 18 miles driving distance from downtown has a second full-service airport less than 11 miles from the city center.
At current Denver cab rates — $1.20 to $1.40 a mile — the fare to the airport will be $68 to $79 per round trip, including a 15 percent tip. Denverites who try to save cab fare will face another unpleasant surprise. In its need to raise about three times as much money for operational costs as Stapleton needs, the city will probably be charging $10 a day with no cheaper rates for satellite parking. That compares to $4.00 currently for satellite parking at Stapleton.
Peña shouldn't have said that Denver taxpayers wouldn't pay for the airport, but rather that they wouldn't pay for it through the tax system. Yet even that would not have been entirely correct. The city had to forgive $40 million of United Airlines' bond debt as a lease concession, meaning $40 million less coming into its coffers. Then, the state was forced to kick in $5 million in tax funds for roads connecting to the new airport, with another $5 million coming from local governments. This despite Peña's earlier claim that the roads to the airport would already be paid for. A study commissioned by a local group opposing the airport also reported that, "The remote location of DIA will result each year in approximately 800 million more automobile miles driven, six to 10 more lives lost in traffic accidents and tons of exhaust fumes added to Denver's brown cloud."
As to what will become of the land on which Stapleton sits, no one knows. In its original bond prospectus, the city said that even after clean-up costs it expected to get $100 million for Stapleton. But there is no market price for old airports and the city has no idea to whom it will sell it, especially with Lowry Air Force base scheduled to shut down in 1994 and become another large tract of unused land. The city has since lowered its expectations to $75 million for Stapleton, and Denver officials are saying it would probably take millions of dollars of infrastructure investment and inducements to attract users. It will be a daunting project. Stapleton is six times the size of Denver's entire downtown.
It is not a foregone conclusion that Denver International will be a flop. While nothing can possibly make it more convenient and less expensive than Stapleton, unforeseen shifts in airport use patterns may allow it to run at a profit. But unforeseen fortuities will not change the fact that Coloradans were continually and apparently intentionally misled.
Late in 1989, by which time it was becoming clear that what Denverites had voted for and what they were going to get were two different animals, some began to demand a second vote. Peña refused, saying it was "not required and would serve no point." An April 1991 poll showed 51 percent would vote against the airport if the issue were on the ballot then, although 70 percent said that since the building had begun, it should be carried through. Peña needn't have been a physics expert to know that such a huge force once set in motion would be virtually unstoppable, no matter what the consequences.
So far, Peña too has been an unstoppable force. In any profit-making business in the world he would have been dumped unceremoniously from his job. But in the world of politics, having already risen to his Peter Principle level of incompetence in a medium-sized city, he found himself yanked right up near the top leadership post in the nation.
Nevertheless, there are those, such as Aviation Systems' Boyd, who argues that Peña's ability to sell a dog like Denver International is what made him such an ideal choice for the Clinton administration. Said Boyd, "It was built on promises that were never kept, and statistics that were totally inaccurate, and it will cost an enormous amount of money."