It's a busy time at Arlington Cemetery, not because of deaths in Iraq and Afghanistan but primarily those of WWII vets. Thus while first funerals are normally at 9 am, Maj. Megan McClung's was at 8:30. This was actually quite fitting, because she was a triathlete and to go running in Iraq in summer you have to get up early even for a Marine. At least 200 mourners were present, mostly Marines and Navy but with a large number of civilians as well.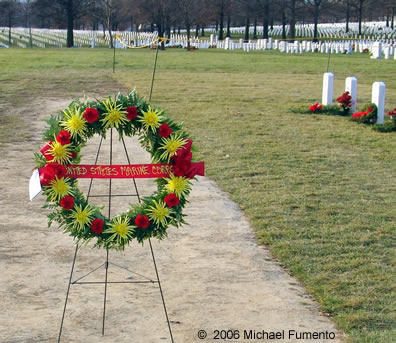 When McClung died she was the head of public affairs for Al Anbar Province, a vicious place that accounts for almost half of U.S. casualties. She had moved her headquarters from Camp Fallujah to Camp Ramadi, probably because even in al Anbar that's where the action is. "Ramadi is the most dangerous city in Iraq and you're going to get your men out there to cover it!" I heard her bark at a non-com PAO in October. Two of my three embeds in al Anbar had been under her, and I found her highly intelligent and absolutely dedicated. This may displease some Marines who like the emphasize the warrior aspect of the Corps, but I found her almost motherly in her concern for getting reporters to where they needed to go – including if they didn't know at the time where they needed to go.
Maj. McClung's demise at age 34 came Dec. 6 while accompanying Oliver North and his Fox News camera crew as well as journalists from Newsweek into downtown Ramadi. Riding alongside her was 32-year-old Army Capt. Travis Patriquin who won a bronze star while fighting in one of the fiercest battles of the Afghanistan war, Operation Anaconda. He was also directly responsible for improving conditions in Ramadi by opening talks with local sheiks and getting them to stop straddling the fence and throw in their lot – and the young men below them – with the Coalition forces. He provided me and other journalists with an extremely informative inbriefing that I quoted from at length in the Weekly Standard and has a clever (PDF) PowerPoint presentation now bouncing around the blogosphere about how to win in al Anbar. Army Spec. Vincent Pomante III, age 22, accompanied them as turret gunner.
The journalists remained safe but a massive improvised explosive device (IED) ripped apart McClung's Humvee, killing the three occupants instantly. Sadly, neither North nor Newsweek have yet acknowledged that they were killed while trying to assist them. North did mention McClung's death, but Newsweek has made no mention of the incident whatsoever. You might think the newsweekly would feel obligated to write about her if for no other reason than that she was the highest-ranking female officer to die in the war.
Unfortunately while I got a shot of the wreath next to her grave, the family requested no funeral photos. But you don't need photos to picture the procession of white horses drawing the open wagon carrying the flag-covered casket; the removal of the casket and placement next to the grave, the moment of silence; taps; then the three-gun salute. Then came the expert withdrawal and folding of the flag that is then handed to the parents. The parents appeared quite shaken, as you would expect. Obviously they knew their child might die in the most violent province of Iraq, but it's something for which no parent can truly be prepared. I cannot pretend to know how they felt. But they bravely kept their composure, even as many a handkerchief dotted the crowd. They also showed their courage in what Mrs. McClung told an L.A. Times reporter. "Please don't portray this as a tragedy," she said. "It is for us, but Megan died doing what she believed in, and that's a great gift....She believed in the mission there—that the Iraqi people should have freedom."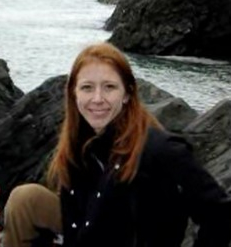 It was strange to be greeted by two officers in my hometown whom I met in al Anbar, one on my first trip and the other – who worked with Maj. McClung – on my second. Strange for me to see them in Dress Blues; strange for them to see me in civilian clothes. After the ceremony I approached the casket, laid my hand on it and thanked Megan McClung for all she'd done to help me. Then I stood back and saluted.
They don't come any more Irish-looking than she was, and I had kidded her about the inherent conflict between her Celtic skin and the Iraqi sun. So I find it fitting to conclude with an Irish funeral prayer. Semper fidelis, Megan.
Do not stand at my grave and weep.
I am not there, I do not sleep.
I am a thousand winds that blow.
I am the diamond glints on the snow.
I am the sunlight that ripened grain;
I am the gentle autumn's rain.
When you awaken in the morning's hush,
I am the swift uplifting rush,
Of quiet birds in circled flight.
I am the soft star that shines at night.
Do not stand at my grave and cry.
I am not there; I did not die.