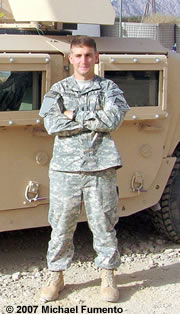 FOB Mizan commander 1st Lt. Kevin Stofan. Photo by Michael Fumento.
Date: February 7, 2007. Location: About six miles northwest of FOB Mizan. A task force on a 48-hour patrol comprising Army Special Forces, soldiers from the 10th Mountain Division (Light Infantry), and 1st Platoon, B Company, 1-4 Infantry sets up a trap during daylight across a known Taliban infiltration route. B Co.'s contribution, headed up by unit commander 1st Lt. Kevin Stofan, includes five Humvees carrying a variety of weaponry.
Stofan is the first to detect what proves to be a formation of about 40 Taliban. "I pinpointed them in a saddle in a peanut-shaped mountain and immediately reacted by maneuvering my vehicle and another around the side," he says. No time to wait for air support.
Stofan's movement alerts the enemy and "they acted like the desperate men they were," he says. In quick succession the enemy fires five deadly RPG rounds at his vehicle. These are the most feared Taliban weapons on the battlefield, capable of shredding Humvee armor. Turret gunner Spc. Marcel Green nevertheless keeps hammering away with his 7.62 millimeter M240 medium machine gun. "He knew that an RPG round was coming and he just kept firing," says Stofan.
An explosion blows off three of Green's fingers. A round blasts open all four doors, propelling driver Pfc. Jonathan Zaehringer from the truck like a rocket. "One round knocked me unconscious and I was pretty banged up," says Stofan. The medic in the vehicle, Pfc. Aaron Murray, suffered a severe concussion and shrapnel wounds to his hand.
First Platoon's five Humvees blast away with M240s, a 40 millimeter M-203 grenade launchers, 40 millimeter Mark-19 automatic grenade launchers, .50 caliber machine guns, and a 60 millimeter mortar. The other units won't enter the fray for another 15 minutes. Meanwhile, Stofan's Humvee is on a crest moving towards the enemy, but without a driver to hit the brakes it rolls into a gully. Zaehringer is left behind.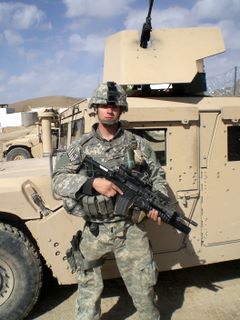 Pfc. Stephen Wright
The only unhurt and conscious man in the truck is Pvt. Stephen Wright, who joined the unit just two months earlier. He runs back up the hill, firing suppressive rounds from his M-4 carbine before grabbing Zaehringer. For all he knows his buddy is dead, but Wright clutches the grab handle on Zaehringer's body armor and drags him back to the Humvee where SF medics later tend to him, probably saving his life. "Wright was practically fresh out of basic training," Stofan says with a bit of awe in his voice, "and he did everything automatically." Now everybody opens up on the enemy. "We put a bad hurt on the Taliban," says Stofan. "Probably upwards of 30 were killed, although they were able to drag away most of the bodies." After an agonizing wait, a Black Hawk drops out of the sky and evacuates the worst of the wounded. Later a jet destroys the Humvee, which is far beyond salvage.
For his action, Wright is awarded the bronze star with V device as are Green and Stofan. Green, Zaehringer, and Murray all receive purple hearts.
Wright is still with the unit but doesn't like to talk about the battle. Murray is also with the unit. Green is still recovering at the U.S. military hospital in Landstuhl, Germany, while Zaehringer was treated at Walter Reed Army Hospital. He's now recovering at his family's home in a small town near Chicago.
Just another undocumented episode of heroism and hell in America's forgotten war.
Michael Fumento was embedded in April 2007 with U.S. and Romanian troops in Afghanistan's Zabul Province. View his Afghanistan photo set. Read Michael Fumento's additional writing on the military, on Iraq, and on the media, and view his Spring 2006 Iraq photos from both the Fallujah area and Ramadi, his Fall 2006 Ramadi photos. View his 2005 Iraq photos.