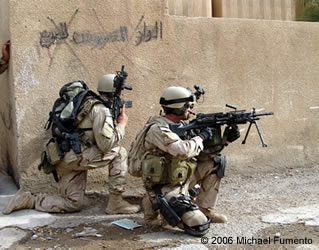 Petty Officer 2nd Class Michael Monsoor (right) during a fight in the Mulaab, Ramadi
Spring 2006: The Mullab section of Ramadi, Iraq. Graffiti boast that this is "the graveyard of the Americans." Leaving your base camp virtually guarantees a fight, and I'm in one the first day of my embed. When shots ring out, I jump into the street to start snapping pictures. I look back and see a tall Navy SEAL seemingly pointing his 7.62 millimeter MK48 machine gun right at me.
In fact, he was protecting me as well as his teammates. SEALs don't wear identification – even on dress uniforms – and I would never have learned his name if, six months later, he hadn't sacrificed all to save those same teammates.
Last week I looked on as President Bush, tears glistening on his face, presented the parents of Navy Petty Officer 2nd Class (Sea, Air, and Land) Michael Monsoor our nation's highest award – the Medal of Honor. "Mr. and Mrs. Monsoor: America owes you a debt that can never be repaid," he said. "This nation will always cherish the memory of your son."
Before the shooting began in Ramadi, the SEALs made clear their disapproval of my presence. Two journalists had previously embedded with my unit, first battalion, 506th Infantry Regiment, 101st Airborne Division (Air Assault). Snipers shot and wounded them both because they stood too long in one spot. This forced soldiers and SEALs to run to where they knew a sniper scope was trained and drag the men to cover. A 101st sergeant was seriously wounded during one rescue. On the evening of the ceremony, at an Irish pub, one after another shook my hand and thanked me telling the world of their heroism and sacrifice. But in Ramadi I was just another casualty waiting to happen.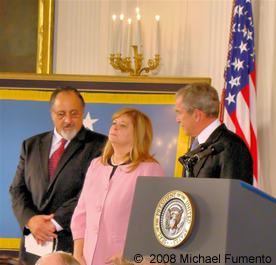 Pres. Bush with George and Sally Monsoor
As it became clear that day in Ramadi that this was a full-fledged attack, 19 men from two platoons of SEAL Team 3 split into two groups, each grabbing a rooftop – the "high ground" in urban warfare. The attackers never had a chance. "Those SEALs fight like machines," I later wrote in these pages ("The New Band of Brothers," June 19, 2006). But machines don't die, and within weeks a member of the platoon, Aviation Ordnanceman 2nd Class Marc Alan Lee, became the first SEAL killed in Iraq.
Six months later, when I returned to the same part of Ramadi, it was already tamer, in part because of the actions of 1/506th and of the SEAL platoons. Yet there was terrible news: A second SEAL had just been lost.
On the morning of September 29, 2006 – St. Michael's Day – the 25-year-old Monsoor was standing as lookout at a sniper post on a rooftop outcropping between two other SEALs who were lying in the prone position. They were helping drive back an attack, and had already taken out two enemy.
Suddenly a grenade bounced off Monsoor's body armor chest plate and fell at his feet. Monsoor knew that by then the fuse was too short to allow the grenade to be tossed out. He also knew the prone SEALs couldn't move. He was the only one in a position to save his own life; but he did the opposite. Without hesitation he smothered the blast with his own body. The other SEALs still sustained serious wounds, but Monsoor had saved their lives.
Regarding both Lee and Monsoor, upon my return I wrote of the reaction I'd gotten by email from their teammates. "Anyone who harbors the notion that SEALs are as tough on the inside as they are on the outside is wrong," I said. Indeed, the losses were especially heavy blows for the nation's toughest warriors. At a pub after the White House ceremony, one of the SEALs confessed: "You know, we really had become convinced we were invincible."

View video
(Note: video blurred to protect identity of SEALs. Large .wmv file, Mulaab Firefight, 6,701kb)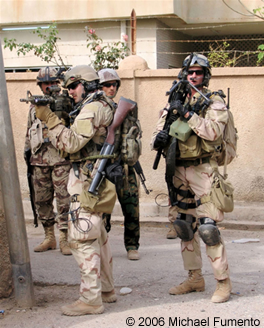 "Mikey" Monsoor with his MK48 at right. The SEAL at left has an M-79 Vietnam-era grenade launcher favored by the SEALs. And notwithstanding that shooting has begun, the Iraqi soldiers are nonchalant feel bulletproof behind these men.
Now in one of the most secure areas of the world, the White House, it was time for this strange reunion, to celebrate the third Medal of Honor given for actions in the Iraq war – all post-humous. The California-based survivors of SEAL Team 3 showed up, including one blind in both eyes. Another was blind in one eye and appeared to be missing a chunk of his left arm. At a later ceremony, the teammates of "Mikey," as they called him, would receive 11 Silver Stars – the Navy's third-highest honor. It made them the most decorated SEAL unit since Vietnam. Representatives of 1/506th were present, as well as dignitaries, to hear Bush praise Monsoor's actions.
"By his undaunted courage, fighting spirit, and unwavering devotion to duty in the face of certain death, Petty Officer Monsoor gallantly gave his life for his country, thereby reflecting great credit upon himself and upholding the highest traditions of the United States Naval Service," the citation reads in part.
The SEALs have their own ways of honoring their fallen. Three weeks after my rendezvous with him, Mikey saved yet another SEAL's life by dragging the severely wounded man to safety with one arm while using the other arm to keep the enemy back with bursts from his powerful (but heavy) MK48. He earned a Silver Star in the field for that action. Mikey's aunt and godmother Patty O'Conner sent me a photo she'd received of a tattoo the rescued SEAL had imprinted on his torso. It shows Mikey with his machine gun and in full battle dress, but also wearing angel wings. Alongside it is the prayer to Saint Michael (the Archangel), which some Catholics (Monsoor's religion) recite in defense against the forces of darkness.
The prayer entreats the Archangel to "defend us in battle" and "be our protection" against wickedness. A Medal of Honor is not beatification. But the prayer fits. And it's not just those men who were in that sniper post who owe thanks to Michael Monsoor.