Only a year ago, California Gov. Pete Wilson was on many short lists for the GOP presidential nomination in 1996. Today, he's on a different sort of list.
Last year, one national newspaper assembled a panel that gave Wilson honors as the nation's top new governor. This year, political opponents are calling him names like "terrorist," and public opinion polls show confidence in him is at an historic low.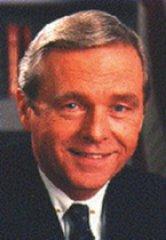 "I coudda been a contendah!"
Last year's praise, mostly from the left side of the political spectrum and almost all from non-Californians, came after Wilson agreed to a budget that included almost $8 billion in new taxes.
This year's contempt is due to a budget battle that, after a two-month-long stalemate, ended with a $57.4 billion spending package guaranteed to dissatisfy virtually every Californian.
Wilson hung tough and got spending cuts in such sensitive areas as education and welfare. But his victory is considered by many to be a Pyrrhic one.
"He won the battle, he forced through his budget and his cuts, and now he must sit and live with the results of these cuts," said Doug Bailey, publisher of the Hot Line, a Washington-based daily political briefer.
"In terms of policy, it's hard to imagine how he will get out of the hole he has dug. It's very, very, very difficult for him."
Included in the plan to close a $10.7 million spending gap are reductions in tuition assistance for students attending community colleges, less funding for state universities and cuts in social programs. Spending on health and welfare programs will drop 7%.
"Our generosity has outspanned our prosperity by a couple of years," said Wilson, after signing the legislation into law. "We have been living beyond our means."
The general perception is that the state's budget is balanced, that spending is going to decrease and that no tax hikes were included in the agreement. None of these is quite correct.
The balanced-budget projection is based on assumptions in both income and outflow that appear highly optimistic. It assumes, for example, 7.8% growth in personal income for the year.
But one important private forecaster, First Interstate Bank, predicted in June that personal income would grow just 6.1%. And in light of more recent bad economic news, it is considering revising that figure downward.
Contrary to claims that spending will be cut, outlays overall will actually rise by $430 million in the fiscal year, which began July 1.
General-fund spending has indeed been reduced in the new budget — by 5.2% to $40.795 billion. In the past 10 years, it increased at a rate that far outstripped the state's rate of inflation.
But special funds — those earmarked for specific purposes such as highway construction — will rise about 0.8% to $12.631 billion, and bond fund expenditures for school, highway and other long-term construction are going up about the same percentage to $57.411 billion.
Fees and other revenue raisers, moreover, will be jacked up. The budget includes $500 million in new fees for everything from filing lawsuits and obtaining back income-tax forms to enrolling children with leukemia in a program designed to help them defray hospital costs.
A projected $12 million will be raised by charging wastewater dischargers more for routine inspections, charges that will undoubtedly then be passed on to customers.
More importantly, $1.3 billion in property taxes will be moved from local governments and special districts to the education portion of the state's general fund. This is expected to force additional local taxation to maintain basic services.
The legislature is tacitly encouraging local tax increases in another way. It has sent to the governor a bill that would drop the current requirement of a two-thirds majority voter approval for tax increases for schools and replace it with a simple majority vote.
All this has gained Wilson a new batch of enemies. But it may have mollified some of his critics on the right.

For many California businesses, Wilson's taxes and regulations broke the bank.
"I was very pleased this time," said Joel Fox, president of the Howard Jarvis Taxpayers Association in Sacramento. "The overall performance, I think, was excellent."
The revenue increases "bother me some," he said. "(But Wilson) told us about it up front; he didn't stab us in the back on it. He understood the bottom line that he has to get the structural problems of this budget in order."
"I certainly applaud (Wilson's) change of heart" in deciding that raising taxes was not the way to balance the budget, said Gil Ferguson, an Orange County assemblyman and one of the most conservative members of the Legislature. "And I really appreciate the fact that he stuck strong during this budget debate."
"However, I'm still disappointed that he hasn't begun the necessary steps to encourage business," he said.
Grumblings from California business over rising taxes and regulatory burdens have increased in recent years, and there appears to be a general consensus of opinion that a growing number of businesses are voting with their feet and moving on to friendlier climes in other states and in Mexico. Last week, General Motors Corp.'s Hughes Aircraft unit announced it was transferring several thousand jobs from Southern California to Arizona.
By staving off large tax increases, Ferguson said, Wilson has merely prevented harm to the business community. "(But) all the budget fooling around won't help the engine of the economy," he added.
Wilson is "halfway there" in improving his image with conservatives, Ferguson said. "He has changed his attitude on taxes and on spending. But he hasn't changed his attitude toward business or on social concerns that conservatives are worried about."
Workers' compensation, the cost of which has soared for California businesses, is still sticking in conservatives' craw, said Ferguson. They want the governor to call legislators back for a special session to deal with the problem. On Friday, Wilson did just that.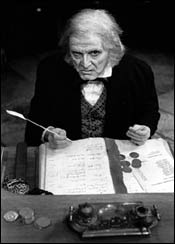 Yet to many on the left, Wilson is a Scrooge. Photo credit: Chris Bennion.
Wilson also has earned points with conservatives by citing business' tax burden as his incentive for holding taxes in check in the latest budget round.
Of last year's (sales) tax increase, he told one newspaper: "This was a high-tax state when we did that, and a recession is obviously not a great time to increase taxes, making life more difficult for employers. A sales tax increase is not a good thing for employers."
Rhetoric aside, the state had been scheduled to start allowing firms with 25 employees or fewer to keep an extra $ 107 million in tax credits to help ease the burden of health-care costs. Under the new budget, however, the program is delayed, and small businesses will have to continue paying the tax.
Also, once again businesses will not be able to carry forward net operating losses as they would be able to do in almost every other state. Instead, they will continue to accumulate credit that in some year, when the budget allows, they will be able to use.
Tom McClintock, a Republican assemblyman from Thousand Oaks, remains one of Wilson's severest critics.
"He won some important reforms, and I applaud him for that," McClintock said. "But the budget remains severely imbalanced, he's imposed major tax increases and he has put California on collision course with a crisis of similar magnitude next year."
"I think if he had done this last year, we wouldn't have faced a crisis of this magnitude, and he would be the most popular governor in state history, instead of the least popular," he said.
With support on the right shored up but still soft, and with the left and the media denouncing him as a Scrooge, Wilson's prospects for a second term as chief executive of California, much less of the nation, don't look promising.
One advantage he does have over the legislature is time. All 80 members of the state's Assembly and half its 40 senators are running for election this November. But Wilson's seat is good for another two years, and by that time voters' tempers at the budget impasse of '92 will have cooled.
"If he were to run for office in November, he'd have a lot of problems," said Richard Hertz, a media polling consultant in Bodega Bay, Calif.
"What it looks like two years from now is like a thousand years. Wilson is going to make the case that, 'Somebody has to make tough decisions, and I should be elected because I had that ability.'"