"Alarmed at the spread of AIDS nationwide, AIDS advocates on Monday demanded millions for HIV prevention and decried the nation's 'paralyzed' prevention efforts."
So began a recent article in USA Today, parroted by many other papers. But the timing wasn't particularly good. A few weeks earlier the Centers for Disease Control and Prevention (CDC) had released its 1997 AIDS statistics showing exactly the opposite. The media completely ignored it, but you can read it for yourself (at http://www.cdc.gov/nchstp/hiv_aids/stats/hasrlink.htm). Herewith, some of the numbers, with a bit of historical context.
The End of Life As We Know It
The fear: "Now No One Is Safe From AIDS," proclaimed the cover of Life magazine in 1985. That same year, Health and Human Services Secretary (HHS) Otis Bowen said AIDS could make the Black Death "seem pale by comparison." Eight years later, current HHS Secretary Donna Shalala told Congress, "We could spend our energy on research and immunization and education and still not have any Americans left unless we're prepared to confront the crisis of AIDS."
The facts: New AIDS cases fell 12 percent from 68,808 in 1996 to 60,634 in 1997. That figure is equal to 2.6 percent of all deaths yearly in this country, 1.5 percent of all live births, or 0.02 percent of the U.S. population.
The Heterosexual Holocaust
The fear: "One in five heterosexuals could be dead from AIDS at the end of the next three years," the nation's most popular talk show host Oprah Winfrey warned her audience in 1987. "The disease of them suddenly is the disease of us," claimed U.S. News & World Report that same year. "The AIDS virus is now running rampant in the heterosexual community," sex therapists William Masters, Virginia Johnson, and Robert Kolodny told us in their 1988 book, Crisis: Sexual Behavior in the Age of AIDS.
The facts: Male cases attributed to heterosexual transmission fell 11 percent from 3,496 in 1996 to 3,105 in 1997; female cases fell 17 percent. Together these represent less than 0.005 percent of sexually active heterosexuals in this country. The heterosexual transmission category represented declined from 14 percent of all cases to 13 percent.
Teen Terror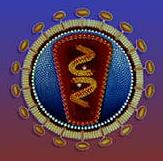 The HIV VirusThe fear: "AIDS Runs Wild Among Teenagers," blared the Honolulu Star-Bulletin in 1992, while the London Daily Telegraph headlined a 1989 story, "'Devastating' Spread of AIDS among U.S. Teenagers." Time magazine wrote of "Teens: The Rising Risk of AIDS" in 1991 and the next year U.S. Rep. Pat Schroeder's subcommittee proclaimed AIDS is "spreading unchecked" among teens, every day "gaining ground and threatening the loss of another generation," implying we'd already lost one generation.
The facts: Last year, teenage cases fell from 401 to 379. During that time, traffic accidents claimed over 6,000 teenage lives.
Woe Unto Ye Woman
The fear: "Women are 12 times more likely to get AIDS," USA Today told us in 1991, without saying more than what. "Women are bearing the brunt of the infection," claimed then-Surgeon General Antonio Novello in 1993. Her successor Jocelyn Elders said last December, "According to the CDC, 90 percent of the AIDS cases under age 20 are among girls." Elders suggested most of these were probably from intercourse with older men.
The facts: Adult female cases declined from 13,767 in 1996 to 13,105 last year. New male cases outnumbered female ones by almost 4 to 1. According to the CDC, 55 percent of all AIDS cases under age 20 are among girls. Were they infected through sex with older men? Doubtful. Most of these girls were under the age of five.
Carnage of the Kids
The fear: "It's no secret that AIDS is ravaging the nation's very young," the CBS Evening News told us in 1992. "Up to 20,000 children have AIDS." Last December Shalala said, "Our concern is the numbers are shifting to our most vulnerable people. We have more kids infected."
The facts: By the end of 1997, a total of 8,086 children had been reported diagnosed with AIDS. Last year, cases declined from 671 to 473. There are probably more charitable events for AIDS children than there are children with AIDS.
Butchery of the Babes The fear: "By 1991, One in Ten Babies May be AIDS Victims," a USA Today headline proclaimed in 1988.
The facts: About 430 children were diagnosed with AIDS last year who appear to have contracted it through their mothers. That's less than one per 9,000 live births.
Equal Opportunity Destroyer
The fear: "Getting AIDS has nothing to do with whether you're black, homosexual or Haitian," said Presidential AIDS Commission Chairwoman June Osborne in 1987, "it's not who you are but what you do." USA Today told us four years later, "AIDS remains a non-discriminating killer." Last September, Shalala called AIDS "an equal opportunity destroyer."
The facts: AIDS discriminates on the basis of sexual preference, drug usage, age, gender, race, ethnic background, and in myriad other ways. Blacks were eight times more likely to have contracted AIDS in 1997 than whites; Hispanics, almost four times more likely. Asians, conversely, had half the white rate.
A 12 percent drop in AIDS cases is terrific. Further drops would be more so. If we begin treating the epidemic in an honest fashion, focusing on the real hot spots, perhaps those numbers will fall much further. Or we can continue sacrificing people to the god of political correctness by continuing to fight the epidemic where it isn't.