It's not every lobbying and information organization that can get an opposing superpower to implement a major nuclear weapons policy. Thus when two years ago the Soviets announced a temporary nuclear test ban in direct response to a request by the Center for Defense Information, CDI officials found that they were no longer eligible to appear on "You don't know me. . . " American Express card commercials. CDI had arrived as a major force in American defense policy.

At almost $300 billion for 1988, the U.S. defense budget constitutes about a quarter of all federal outlays. Granted, this is down from over 50 percent of federal expenditures in 1955 and 45 percent in 1960. Granted, too, that much of the talk about gold-plated coffeemakers and diamond-studded claw hammers was little more than hype. It nevertheless remains true that any large bureaucracy will tend to incur a tremendous amount of waste; and concerned politicians and watchdog groups can play an invaluable part in keeping such waste to a minimum.
The non-profit CDI is one of the most prominent organizations identified with trying to minimize wasteful military expenditures. Consisting of twenty-five full-time staffers, CDI is headed by retired Rear Admiral Gene R. La Rocque, the organization's director since its founding in 1972. La Rocque, who has been called the "Ralph Nader" of the military, overtly belies the image, with large, sad eyes and a friendly, down-home manner. Yet he runs a tight ship, and critics who speculate that he is more a figurehead than a leader should watch his crew snap to attention when he calls from his office.
Beginning in 1984, La Rocque and CDI worked for nearly a year to get the Soviets and the U.S. and its allies to ban nuclear testing to commemorate the fortieth anniversary of Hiroshima, August 6,1985. The Reagan Administration responded that such a moratorium could not be adequately verified and that, moreover, "nuclear testing plays an important role in ensuring a credible U.S. deterrent, particularly in view of the massive Soviet buildup of nuclear forces."
But CDI persisted and on July 29, following a crash program of nuclear testing, the Soviet Union announced a half-year suspension. In doing so the Soviets scored a major public relations coup and CDI was able to describe itself as the originator of "the most important arms control development of the decade." The Administration, meanwhile, had lost one more skirmish in the propaganda war of arms control.
CDI made the news more recently when it hosted a conference of American and Soviet generals last April, which the FBI mentioned in its 1986-1987 report on Soviet active measures. The report noted that a group of former NATO officers called Generals for Peace and Disarmament (GPD) "has been targeted by Soviet intelligence services [and] has echoed views consistent with Soviet arms control objectives and against NATO." The report went on to say that,
Although the CDI is not officially affiliated with the GPD, it engages in similar activities and supports the activities and statements of the and former Soviet military officers. The Soviets have effectively utilized statements made by GPD and CDI officials in their active measures campaigns.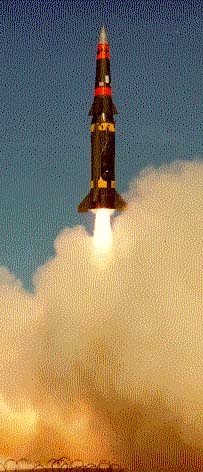 Pershing II
In another sure sign of success, one of CDI's major initiatives of the last several years — its steadfast resistance to the deployment of Pershing II and ground-launched cruise missiles in Europe — was realized when President Reagan and General Secretary Gorbachev signed the INF treaty in December.
The Center's activities, however, spread far beyond the upper echelons of the foreign policy community. Its program includes a library which is open to area researchers; a series of books, at least one of which, Current Issues in U.S. Defense Policy, has been used as a standard text in college courses; the Center's reference service, which provides quick information upon request; and radio programs, films, as well as a new weekly TV series called America's Defense Monitor, which is shown on independent cable stations because, as CDI's director of research puts it, "since it's our point of view, even PBS might not consider it as balanced as they would like."
About 300 stations around the country carry the show, with a potential viewing audience of approximately four million. CDI's most important publication is Defense Monitor, a newsletter published ten times a year with each issue devoted to a specific defense topic. Almost 100,000 copies of the Monitor are sent out each month. Most of them, according to the Center, go to paying subscribers.
CDI was started as a project of Fund for Peace, a leftist tax-exempt instrumentality headquartered in Washington, D.C. and financed initially by General Motors heir Stewart R. Mott. In addition to CDI, Fund for Peace has been the parent organization of several groups that have had interlocking relationships with CDI. They include the Center for National Security Studies, whose personnel have shown a pattern of interrelationship with the far-left Institute for Policy Studies (IPS); the Center for International Policy, some of whose principal activists have also had close ties to IPS; and In the Public Interest, a project designed to "counteract the onslaught of right-wing broadcasting."
Nicholas Nyary, president of Fund for Peace in 1975, served as secretary-general of the World Peace Council (WPC) in 1976. A July 1978 CIA report called the WPC "the most important Soviet front organization" and said it "supports disarmament on Soviet terms (without international inspection) along with various subsidiary campaigns backing Soviet policy on the Middle East, Cyprus, Chile, South Africa and other regional problems."
While Research Director David Johnson plays down the CDI/Fund for Peace connection ("They always had a minimum of input into CDI"), some of the members of CDI's own advisory board have had equally controversial doings. Harold Willens, also a member of the board of trustees of Fund for Peace, was a principal leader in the anti-Vietnam war organization Business Executives Move for Vietnam Peace. This group was responsible for a broadcast, later played over Radio Hanoi, of an "ex-Marine pilot" denouncing U.S. bombing and accusing U.S. military forces of war crimes against the Vietnamese people.
Another CDI board member, Dr. Earl C. Ravenal, has served as a "fellow" at IPS and participated in a project co-sponsored by IPS and the Transnational Institute, which has connections to Fourth International, a world-wide Trotskyite apparatus with a documented record of support for terrorist violence. Other notable advisors include Paul Newman, who narrated a film for CDI, and his wife Joanne Woodward. Most shocking of all, the director of CDI's "Women's Agenda" is Barbara Levin, wife of Senator Carl Levin (DMI), a member of the Armed Services Committee and a key critic of U.S. nuclear weapons policy.
Since its separation from the Fund for Peace in 1983, CDI has continued to draw its funds from similar sources. (Author's note: The Center boasts that its books of individual contributors are open to any interested party, but my experience in this regard leaves me skeptical. After being shown a list of contributors without dollar amounts, I was promised a print-out with figures included that "will probably be available overnight." After ten days I was told that such a print-out, in fact, could only be ready in three months. When I then requested a copy of the original list I had been shown, that too was denied. Subsequently, a CDI staffer called _The American Spectator and demanded a list of this magazines contributors!)_
Consulting the Foundation Grants Index, 16th Edition, one discovers the usual network of far-left fundraising. For example, CDI received a $500,000 grant in 1985 from the (Joan B.) Kroc Foundation, which in that same year contributed $100,000 to the left-wing Beyond War Foundation and the Union of Concerned Scientists, a pro-nuclear freeze group. (Joan Kroc is also notable for having recently distributed $1 million to the Democratic party.)
The Town Creek Foundation, Inc. gave $10,000 to CD1 in 1985, at the same time giving from $5,000 to $10,000 to such left-wing groups as Educators for Social Responsibility, Physicians for Social Responsibility, the SANE (nonuke) Educational Fund, and the Union of Concerned Scientists. The Mertz-Gilmore Foundation gave CDI $10,000 in 1985 "for programs focused on how to stop the nuclear arms race." That same year it gave $5,000 to $10,000 to such left-wing groups as the Center for War/Peace Studies, the Downstate New York Nuclear Weapons Freeze Campaign, Educators for Social Responsibility, the LAMBDA Legislative Defense and Education Fund (for homosexual rights), the Lawyers Alliance for Nuclear Arms Control, the Lawyer's Committee for International Human Rights, the Nuclear Weapons Education Fund (to work for a nuclear freeze), Physicians for Social Responsibility, and the SANE Committee for a Sane Nuclear Policy. As of 1985, CDI's budget was approximately $1.5 million.
The man who presides over this war chest, Gene Robert La Rocque, began his military career in the University of Illinois Army ROTC program, where he was in both the infantry and cavalry. He didn't take much to horses — his right arm causes him trouble to this day as a result of a horse stomping his hand — and a half year before graduation La Rocque joined the Navy. He was an ensign aboard the U.S.S. MacDonough when the Japanese attacked it and the bulk of the Seventh Fleet at Pearl Harbor on December 7, 1941.
La Rocque participated in thirteen major naval battles during the war, serving aboard several warships. During one assault in the Marshall Islands, La Rocque says he led the Marines in storming the beach, an experience that he says later made him hate guns, particularly handguns. Nevertheless, he went on to spend thirty-one years in the military, retiring in 1972.
Shortly thereafter, he helped form CDI, which boasts among its staff seven high-ranking retired military officers, and about 500 military supporters, according to La Rocque. The military officers on the staff and on the board of advisers, all of them retired, are from the ocean-going services (Navy and Marines), a fact La Rocque attributes to the Navy "drawing our officers from basically the eastern establishment schools [while the Army] takes officers from enlisted ranks, something we don't do." He also believes that Navy officers have an expanded outlook as a result of their world travels on ship. Other former naval officers with whom I spoke, however, thought the preponderance of naval officers in CDI was mostly attributable to La Rocque's personal connections from his time in the service.
Members of the media often rely on CDI for the latest information on the Persian Gulf situation, the U.S. naval build-up, U.S-USSR arms reduction negotiations, and other areas. A survey of three months of clippings from mid-1987 shows forty newspaper and magazine articles either written by CDI staffers or based on CDI-supplied information. These pieces virtually never mention CDI's ideological slant. Rather, they refer to the Center as a "Washington-based group," a "military research group," "a private, nonprofit group that analyzes this country's military spending, policies and weapons systems," "a private military research organization," a "watchdog group," or "a Washington group that compiles military data!" (the last being standard New York Times usage). Only the Chicago Sun-Times, in one of two articles, came close to using an ideological label, calling CDI "liberally oriented. " In contrast, a similar survey of articles using material supplied by the Heritage Foundation found that the think-tank was referred to as either "conservative" or "right-wing" more than half the time.
Despite the failure to identify in print the orientation of CDI, the reporters I talked to seemed guarded in their attitude toward the Center and its resources. New York Times reporter John Cushman, Jr. says he uses CDI "primarily for factual information on [Persian] Gulf operations — numbers of ships, flow of oil, attacks, and so on. When you use them for that, I've found you don't have to worry about politics. I make less use of their long reports" — a reference to the Defense Monitor. ABC News_ who covers the Pentagon, says CDI "can be a wonderful source for detailed things, minutiae such as ship counts and what-not." Other material, however, she says she uses "not as gospel but as a base guide." Says Sonenshine: "Do they have an agenda? I think so. They have a point of view and they express it. As with anybody's material, the onus is on the reporter to check it out."
Bill Gertz, who covers the Pentagon for the Washington Times, is less complimentary. "I dont think I've ever found them helpful," Gertz says. "When I need statistics I go to the Pentagon or the Library of Congress or some established source, but not CDI. They often reflect the Soviet position on so many things."
When I noted that an ideological label was hardly ever applied to CDI, the reporters seemed somewhat surprised. "I never would have guessed that," says James Coates, former Pentagon reporter for the Chicago Tribune. "It's pretty important. It could be because [CDI] has been around comparatively forever, while the Heritage Foundation didn't amount to a hill of beans until Reagan came aboard."
As to the impact CDI has had on the media, Coates says, "They've had a tremendous effect on the media in general, the same as they've had on me."
CDI also makes its influence felt in Congress. Although Hill staffers tend to rely on their own research services rather than CDI, CDI's ideas get exposure through the Defense Monitor, which is provided regularly free of charge to congressional offices. Bruce MacDonald, legislative assistant to Sen. Dale Bumpers (D-AR) on the Appropriations Committee, says he finds that the Defense Monitors are helpful, and CDI information "pretty accurate," but that CDI's political angle is minimally worrisome. "They try to remain objective but most people realize they're of somewhat liberal origin," he says.
Another legislative assistant to a liberal Democrat senator, who serves on the Armed Services subcommittee of the Appropriations Committee, believes CDI has been tremendously effective on the Hill, an effectiveness he does not welcome. "In my view," says the aide, who wishes to remain unidentified, "they were one of the more outspoken groups that started our country on the road to the anti-military mentality."
It's probably not surprising that conservative members of the military establishment oppose CDI's initiatives, though perhaps their tone is surprisingly harsh. Some have stopped just short of accusing the Center of treason. In 1983, 424 retired admirals bought a full-page advertisement in the Washington Times, the headline of which read, "We Think That It Is Time to Let the American People Know Where the Vast Majority of Their Retired U.S. Navy Admirals Stand."
A sub-head said, "Retired Rear Admiral Larocque's [sic] Appearance on Soviet Television to Condemn the Policies of the United States Is Contrary to Our Precepts and, We Think, Injurious to the Best Interests of Our Country." The following month, a similar advertisement signed by 575 retired admirals was placed in the same paper.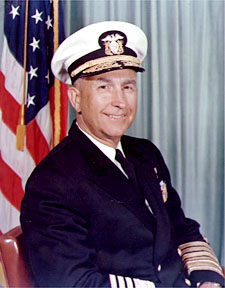 Admiral Thomas H. Moorer
The signatures in both advertisements had been solicited by retired Admiral Thomas H. Moorer, who had served as chairman of the Joint Chiefs of Stage under President Nixon. The ads followed La Rocque's appearance on a Soviet evening program in which he was placed opposite Deputy Secretary of State Kenneth W. Dam and in which he charged that President Reagan "is not serious about arms control." The only one of eight former Chiefs of Naval Operations who did not sign the advertisement was Admiral Elmo Zumwalt, who said he would have signed save that he had been traveling and had not had a chance to see the text beforehand. Deputy Undersecretary of the Navy Seth Cropsey, on the other hand, refuses to impugn the Admiral's patriotism. "Traitor is a bit strong," says Cropsey. "I think he's just a jerk."
But while conservative military men take a dim view of CDI, the Center fields criticism even from its fellow Pentagon watchdogs. William Lind is the co-author of America Can Reform with Sen. Gary Hart, which details what the authors consider a dangerous misallocation of defense funds. "Generally speaking, they're against everything," Lind says of CDI. "I don't attach much credence either to those who favor everything the Pentagon does or to those who criticize everything without offering alternatives." Lind, who now works with conservative activist Paul Weyrich, distinguishes his and Hart's goal in America Can Reform from the efforts of CDI. "Our motivation was combat effectiveness in the Armed Forces — a military that can win when called upon," he says. "The group that I'm a part of is always careful to form alternatives, but La Rocque's group doesn't. From their literature, I cannot recollect any major defense project they support. "
Indeed, a listing of major defense projects and CDI's assessment of them bears out Lind's suspicions. The following evaluations are from a 1987 Defense Monitor.
No more MX missiles [than the current 50 ordered]. The existing 1000 U.S. land-based missiles, with 2,177 nuclear warheads, are more than sufficient for effective retaliation.
Cancel Trident II missile.... Such weapons systems support a dangerous U.S. nuclear war-fighting strategy and would increase the probability of a first strike by one side or the other in a period of military tension.
Cancel Midgetman Mobile Missile... The U.S. does not need another 500 nuclear missiles, especially at a total program cost of $45 billion.
Abolish SDI [the Strategic Defense Initiative].... At it's very best [SDI] would provide no more than an imperfect defense against only one form of nuclear attack. To develop this partial, leaky shield will ultimately cost hundreds of billions of dollars which will consume funds needed for legitimate defense programs.... SDI will stimulate an accelerated offensive arms buildup and wreck strategic arms control efforts.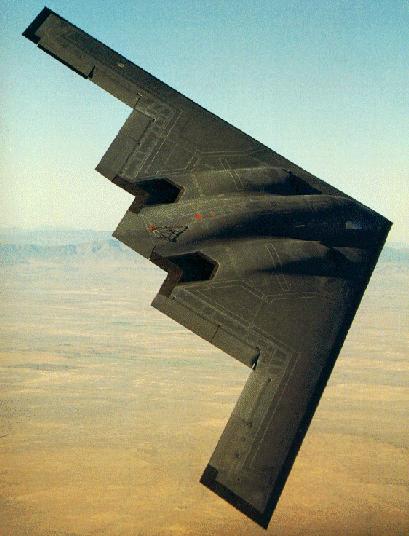 The B-2 Stealth Bomber: The Center never met a new weapons system it did not dislike.
Cancel the Stealth Bomber... The Pentagon has not provided sufficient justification for 132 new penetrating bombers.
Cancel deployment of the advanced Cruise Missile... The Air Force already has planned deployment of 2,179 groundlaunched and air-launched cruise missiles, which is more than adequate for nuclear retaliation.
And so on. Research Director Johnson, who has been with CDI since the beginning, basically concedes Lind's point. He does note that CDI has "supported improvement programs for the B52 and the like, and never criticized the MIRV [multiple war-head missile]. We do, as most liberals, shall we say, have a fondness for submarine-based missiles." He also says, however, that just as CDI opposes Trident II now, it also opposed the Trident I system. "It seemed wasteful and premature," he says.
Another important Pentagon watchdog is Edward Luttwak, author of the acclaimed and scathing book, The Pentagon and the Art of War, and a strategy analyst at the Center for Strategic and International Studies. Luttwak is decidedly not a member of the Lind-Hart group — "Some of his ideas I like," says Lind, "Some I don't" — but one thing they agree on is CDI. "The people involved [with CDI] are respectable," says Luttwak, "and their data sheets are usually accurate. But in no sense should they describe themselves as a 'center for defense information' or in any sense balanced. They only show opposition to different plans; they provide only reasons not to do something. They only provide half the truth. "
CDI's Johnson is clearly concerned with his organization's image of one-sidedness, and even somewhat apologetic about it. "We know that many perceive us as one-sided, always grinding out the same message. We just don't have the resources to lay out alternatives," he says. "The fact that we may appear unbalanced reflects in part how a small organization has to operate. One is a critic, one is a gadfly." He also says CDI focuses its harshest criticism on the U.S. rather than the Soviet Union because "we're an American organization.... Perhaps it would help us if we did things perceived as less critical of the U.S." On a later occasion, Johnson proudly showed me a copy of a Defense Monitor dating back to 1979 that took the Soviets to task for greatly increasing their weapons exports. But even on this issue the Monitor managed to zero in on the real culprit:
In an attempt to take the United States off the hook for its role as an arms merchant and to undermine the assumptions behind President Carter's policy of arms sales restraint, several recent reports have purported to show that the Soviet Union is the driving force behind the arms race in the Third World. Reality, as always, is far more complex.... According to figures released by the Arms Control and Disarmament Agency ... the Soviets have delivered more than the United States worldwide in only five of fourteen categories.
The emphasis was the Monitor's, and in fact this was the only emphasized sentence on the page. Here's how the report concluded:
The lesson for President Carter and his advisers however, is that American arms sales policy should not rest on Soviet behavior... After more than twenty years, Soviet military sales and aid have not, on balance, substantially extended Soviet influence or power... The current growth of their exports and the acquisition of new friends in Africa is no justification for American expansion of its own exports to counter supposed Soviet influence. Visions of global confrontations simply do not square with the realities of frustration and failure which have dogged the Soviet program.
The picture of "bumbling Soviets" and their "supposed" influence is one that CDI enjoys painting. In the Defense Monitor, every Soviet attempt at aggression boomerangs. In fact, CDI evaluations of the Soviets read like parables, cautionary tales aimed at the U.S. "I think history has taught the Soviets a sense of humility," says Johnson. "They can't even subdue one little country outside their border," says La Rocque, referring to Afghanistan. Interestingly, CDI opposes U.S. aid to the mujahedeen (and to all anti-Communist guerrilla movements), aid without which the Soviets would almost surely have succeeded in their conquest.
"What the Soviets have got for effort [at expansionism]," says La Rocque, is "a myriad of mismatched ethnic groups ... almost an unmanagable system." A 1986 Defense Monitor "Soviet Geopolitical Momentum: Myth or Menace," supports the assumption that the Soviets can no longer expand their influence. The report spells out in percentages what part of the world was once "Soviet influenced" and what portion is today:
[That percentage] rose to nearly 15 percent in the late 1950s, declined to nine percent in the mid-1960s, and finally rose back to over 12 percent in the mid-1970s. It has remained at 11 percent for the past 7 years. According to this indicator, _Soviet world influence was at its height in the 1950s and there has been no significant positive Soviet geopolitical momentum for many years. _[Emphasis in original.]
In considering countries that are supposedly not under Soviet influence, one immediately notices the absence of, for example, North Korea. Kim II Sung's government in just the last few years has strengthened diplomatic ties with the Soviets, allowed Soviet planes fly-over rights en route to Vietnam, accepted dozens of Soviet MiG fighters and HiND helicopters, and sent combat troops and advisers to countries in Africa and Asia where resistance forces are battling Soviet proxies. Nicaragua, too, is omitted from the Defense Monitor list.
"We don't assume [expansionism] is the operating motive of the Soviets," says Johnson. "I'm not going to disagree that there are certain elements [in the USSR] that pursue a Marxist-Leninist world view, but they in general are principally oriented towards dealing with domestic issues. They are trying to stabilize their internal position, to prolong the period of economic development and improve the quality of life at home. " Why leaders with such motives would hamstring their economy by spending over 15 percent of their GNP on military expenditures to maintain occupation forces or military advisers on all the continents save North America must be puzzling indeed. These anomalies are explained point by point.
Most of Eastern Europe: "[This resulted from] the aftermath of the war," says Johnson. "The USSR hung on and is still working itself out." He also suggested the occupation might be due in part to the Marxist-Leninist element in the Soviet government. La Rocque says that the occupation results from the Soviet desire for a buffer zone, but adds, lest we believe he approves. "I can understand the desire for a [defense] corridor, but it's time for them to get out."
Afghanistan: "Again, it's probably a significant reflection of Marxist-Leninist residuals," according to Johnson. "They probably thought of it as coming to the aid of a Marxist government."
Poland: "Poles," says La Rocque, "are the most reluctant to have the Soviets pull out because they're more afraid of the Germans than of the Russians." As evidence, La Rocque recounted the story of the time he declared, at a social function, "When are the Soviets going to pull that damned [Berlin] wall down!" To which an eavesdropping Polish ambassador told him that his people wanted the wall to remain up.
This benign attitude toward the Soviets accounts for more than CDI's view of Communist expansion. It also carries over into the area of strategic nuclear weapons, as a motivation for both excusing Soviet treaty violations and asserting that the United States does not need the kinds or numbers of weapons that most military planners think the U.S. does. For example, it allows CDI fully to support almost any nuclear arms treaty because, in CDI's view as expressed in a 1987 Defense Monitor, "the Soviet Union has complied with all of the principal requirements of the SALT I and II agreements."
In another 1987 Defense Monitor, CDI admitted that the Krasnoyarsk radar, the new SS-25 ICBM, and the Soviet use of encryption to conceal missile test telemetry "are among the issues that warrant serious investigation and discussion with the Soviets," Here's how it deals with the alleged Krasnoyarsk violation:
The Administration believes that it is an early warning radar because it closely resembles other Soviet radars of this type. If so, it would be in violation of the ABM treaty... The signals emitted by the radar when it is turned on will help to resolve the issue... In the meantime, the Soviets reportedly offered to halt construction on the radar if the U.S. would do the same on two early warning phased-array radars that it is installing in Greenland and the UK. Whether the U.S. explored the offer is not known, but it seems clear that the Administration's high voltage publicity... is not calculated to encourage the Soviets to push their offer further.
Incidentally, there has been no charge that the American radars violate any treaty. Thus, the Soviet "offer" is an attempt to get something for nothing. More importantly, note how CDI subtly turns the issue until it looks as if U.S. behavior is at the root of the problem. So too with the SS-25 alleged violation:
The Soviets fought hard in the SALT negotiations to avoid restrictions that would have prevented them from deploying the SS-25. [Former] Assistant Secretary of Defense Richard Perle has deplored this type of negotiating practice, saying that it amounts to designing loopholes in the treaty. It could be argued with equal merit that the Soviets' refusal to accept language that they knew they could not honor demonstrates their respect for the treaty.
The Soviets, in other words, demonstrate their respect for a treaty by violating it. And if that's not enough, the Monitor section on the SS-25 concludes: "It's difficult to see how the modest increase in military capability they stand to gain [from replacing SS-11s with SS-25s] would justify jeopardizing SALT." In other words, call it a violation if you want, it's just not that big a deal. Whether the Soviets' willingness to violate one section of the treaty indicates a willingness to violate treaties in general is a question the Monitor leaves unexplored.
Finally, on the telemetry encryption (the practice of denying electronic information transmitted by missiles in test flight to monitoring stations of the other side), the Monitor states: "The issue is whether this practice is a blatant violation of the treaty or simply a case of the Soviets making use of ambiguous language." Guess which side CDI comes down on?
CDI's mind-set is perhaps nowhere more incredible than in a 1987 Defense Monitor entitled "U.S. Invasion of Nicaragua: Appraising the Option." The report gives a day-by-day projection of how such an invasion would progress, drawing up a scenario that a thousand Ollie Norths might not concoct. By the end of the first month, after suffering only 200 killed in action, U.S. forces not only would completely dominate the country but would also be able to begin their first withdrawals. Yet, the report concludes, such an invasion would be ill-considered:
An invasion by the U.S. could make more communists than it kills as the Sandinistas who escape Nicaragua will surely spread their fear, suspicion and hatred of the U.S. throughout all of Latin America. [It would] alarm even our closest friends in the region [and] make a mockery of America's committment to the principle of self-determination and bring discredit on our government among millions of our own citizens and more millions of our friends abroad.
We can probably be grateful that the report does not call Nicaragua our new Vietnam.
Most defense monitoring organizations — the CSIS, the Heritage Foundation, the Brookings Institution — seek to determine how the military can get the most bang for its buck. CDI, on the other hand, tries to calculate how to get much less bang for far fewer bucks. One of the reasons for this, CDI claims, is that the money saved can go toward the expansion of federal social programs. This calculation is another item that separates CDI from its fellow watchdogs.
When La Rocque says, "When we were rich we could be the world's policeman, but now we have to squeeze the budget," he's not challenging the irrefutable evidence that America's GNP is far higher than it's ever been; he's saying other considerations have become more important than defense. In a 1984 Defense Monitor, Marian Wright Edelman of the Children's Defense Fund, a large Washington-based advocacy group that works to enlarge the welfare state on behalf of children, is quoted approvingly as saying:
We plan to build about 243 MX missiles at about $100,000,000 each. For each missile we cancel, we could eliminate poverty for a year in 92,000 families headed by females. If we cancelled the whole program, we could eliminate poverty for all children in the U.S. twice over and have enough left to send all female heads of low-income families to college for a year!
Another Defense Monitor concentrated on U.S. military expenditures in defense of Japan and explained how these same funds could be used to make American industry more competitive with that nation's trade industry.
Brian McCartan, an economist at CDI, told one reporter, "Picture one society that spends its time putting up walls and sharpening its spears, and another society that spends its time inventing wheels and things. In the long run, the second society will do much better. "
Which brings us to the question of La Rocque and his crew's ultimate motivation — whether it is an ardor for peace so all-consuming that it continually leads them to give the Soviet Union the benefit of the doubt, or whether it is a desire for social programs whose funds must be drawn from the country's defense, or whether it is something more sinister. Whatever the motivation, CDI's continual condemnation of any weapons system and its relentless apologies for Soviet misbehavior cast great doubt on its claim to be an organization devoted to a strong defense of the United States. What CDI encourages is enough to judge it by. "I believe," Admiral Zumwalt told the Navy Times, "that if La Rocque's ideas prevail, my children will not live out their lives in freedom."