In an argument against affirmative action, commentator Arthur Hu once asked sardonically, "Would you fly in an airplane whose company motto was, 'We put diversity first?'" Little did he know that in 1992 President Clinton would trump his example, putting diversity first to make Federico Peña in charge of all airlines as head of the Department of Transportation (DOT).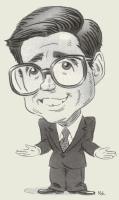 Federico Peña
There, Peña's ineptitude and dishonesty was instrumental in the horrible deaths of 110 people on ValuJet Flight 592 last May, then a subsequent coverup. Now Clinton wants to make him Secretary of Energy, thereby putting him in charge of cleaning up the nation's nuclear weapons complex.
You see, Peña has an unbeatable quality — his magical Hispanic heritage.
Four years ago, Clinton — bent on creating his "Cabinet that looks like America" — sought to appoint Hispanic Rep. Bill Richardson (D-NM) as Secretary of Interior. But when Richardson met resistance from environmentalists, Clinton turned to former Denver mayor Peña to fill his cabinet quota, giving us a Transportation chief who didn't know the first thing about planes, trains, and automobiles.
As such, Flight 592 was literally an accident waiting to happen. Indeed, criticism of ValuJet at the Federal Aviation Administration (FAA), a unit of DOT, had been building since 1993. By February 7 of last year, the situation was so critical that staffers from the FAA Inspector General's (IG) office met with FAA inspectors over the matter.
Documents show the IG's staff talked about more than a dozen safety problems at the airline. The IG chief, Mary Schiavo, later said that she decided on that date, "I wouldn't get on [ValuJet] because of the number of incidents that have been reported."
Seven days later, an internal FAA memo suggested that ValuJet be shut down pending correction of its safety problems. On May 6, just five days before the crash, an FAA preliminary draft report found more than 100 ValuJet safety violations.
Schiavo told me that she had repeatedly attempted to relay her concerns to Peña, going through his chief of staff Ann Bormolini. But Peña claims Bormolini never told him anything. This is truly a strange thing to keep secret from your boss. In any case, immediately after the ValuJet crash, Bormolini quit and scurried back to Denver, where she became harder to find than Salman Rushdie.
On May 2, just nine days before the ValuJet crash, the FAA produced a report on the safety records of the various airlines. ValuJet's record was a nightmare.
Of nine so-called "start-up" airlines analyzed, there were six accidents between them. Five of these involved ValuJet. Of accidents labeled "serious," there were three, all involving ValuJet. Compared with the record of the high-fare carriers (such as American and United), ValuJet's accident record was 14 times higher. Its serious accident rate was 32 times higher.
Yet the day after the accident, Peña rushed to the site and proclaimed "ValuJet is safe to fly." ValuJet has "in some cases even exceeded the safety standards that we have at the FAA," he said.
Indeed, he appeared on two television shows the day after the crash waving the May 2 report, calling it proof of ValuJet's safety.
A month later, he finally shut that "safe" airline down.
Why did Peña turn a deaf ear to all the warnings about ValuJet? Go back to April 23 of last year. The DOT released a report titled "The Low Cost Airline Service Revolution." In it, Peña claimed that "start-up" airlines were providing tremendous savings to the American public — indeed $6.3 billion over the last year. Most of the credit, he said, went to his boss. "These developments are, in large part, the outgrowth of President Clinton's effort to support new-entrant carriers," Peña boasted.
Yet three-fourths of the flights of the so-called "start-ups" came from a single airline, Southwest, which began service 22 years before Clinton took office. Pull Southwest out of the equation and there's little left of those "tremendous savings." Pull out ValuJet and what's left was about enough to buy a latte at Starbuck's. So ValuJet had to be kept flying — at any cost.
For any Anglo, Peña's actions would have been the political kiss of death. But again, Peña's pedigree came to the rescue. Perhaps skittish about accusations of unfairness towards a member of a growing ethnic group, the media treated him with kid gloves. Indeed, my expose of Peña and the ValuJet coverup in The New Republic magazine was named by the Western Journalism Center as one of the top ten spiked stories of the year.
Even so, as the Denver Post reported, Clinton had been sufficiently embarrassed over the ValuJet incident that he "at first seemed content to let Peña go," after his re-election. But "Clinton became troubled by the prospect of having no Hispanics in his 14-member cabinet," reported the paper. So here we go again.
Of course, the Republican-controlled Energy Committee could have blocked Peña's nomination. Indeed, several members noted his utter lack of experience for the job — then bravely tucked their tails between their legs and voted for him.
Let's rephrase Arthur Hu's proposition. Would you want your kids driven by a school bus driver with a bad accident record who then lied about that record? Would you ignore these problems if he had a certain ethnic background? No? Then you probably wouldn't want him in charge of your nation's nuclear clean-up effort either.