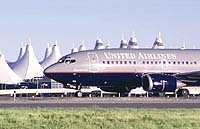 When Federico Peña became mayor of Denver in 1983, he must have smacked his lips and roared: "Let the good times roll!" Yes, that's a Louisiana expression. But Louisiana's symbol of corruption, Huey "Kingfish" Long would have been proud of our current U.S. Secretary of Transportation. This goes especially for his crowning achievement, Denver International Airport (DIA) which just opened 16 months late.
Peña took over a city wracked by recession, promising that "Denver is poised for greatness." Under him, Denver launched one mega-project after another. It hosted a Grand Prix, built a new convention center, and authorized the building of a new baseball stadium. In each case, the pattern was the same. The city government broke its promises, some select businesses gained, and taxpayers ended up footing the bill.
The Grand Prix tied downtown traffic in knots for two years then left, with Denver taxpayers holding a $2.5 million bill. The convention center saw a drop in bookings over the predecessor, and the baseball stadium promised at $140 million is coming in at $215 million.
And then there was DIA. Practically everything Peña ever said about the need for the airport and its cost was a fabrication.
He said that flight delays at the current airport, Stapleton, were, "an embarrassing bottleneck, both in our national transportation system and our ability to have an efficiently run airport to build a strong, stable economy."
But Stapleton's flight delay record in years just prior to the building of the airport was among the best in the nation.
Pena said Stapleton could no longer keep up with increasing demand, predicting that Denver's airport would serve 52 million passengers by 1995.
The actual number is now estimated at 32 million, less than Stapleton served in 1987. Even if traffic had increased, Stapleton could have handled it, since it had just added a new runway and a new concourse. Peña said DIA would be the world's second largest airport, a claim that surely appealed to the vanity of Denverites.
But DIA has both less terminal space and fewer gates than Stapleton did. The "second largest" claim is only justified by the amount of the land around the terminal and runways, rather like measuring the height of a car by counting from the top of its radio antenna. It is in part because of this surplus land that the airport is further away from a population center than any metropolitan airport in the nation. Peña said the new airport would be essentially cost-free to Denverites.
But the Charleston, South Carolina Daily Mail was more accurate when it headlined, "Denver Airport Great if You Don't Live in Denver."
Thus cab fare to catch a plane has shot up dramatically because of the new airport's distance. You could park fairly close to Stapleton for $4; for DIA it's $10. Because DIA is three times more expensive to run than Stapleton, its landing fees have more than tripled. This forced Continental to drop it as a hub and United, the only hub airline left, to slap an extra $40 on all domestic round-trip fares either departing or entering Denver.
While construction did provide a short-run boost to the local economy, Aviation Systems Research Corporation President Michael Boyd has estimated the cost to the Denver economy of the new airport at $200 million a year on into perpetuity. The extra cost of flying into town is also guaranteed to stifle tourism and convention business.

As far as actual construction costs go, Peña told voters who later approved the project it would cost $1.7 billion. But the final cost will be about $5 billion. For all the talk of the infamous baggage handling system, the airport would probably have opened a year late anyway because Pena used a ridiculously low estimate of construction time in order to keep the budget low on paper.
Corruption has bred corruption. About a dozen investigations are underway into various practices at DIA, including shoddy construction.
But Peña wasn't the only high government official working to force the world's largest white elephant down citizens' throats. Democratic Governor Roy Romer, nice man, threatened to "roll over and crush" any opposition. What's more, it's clear that Denver's daily newspapers, both of which editorialized in favor of the new airport, also greatly ignored the problems of DIA on their news pages. At least until just a few weeks ago. Then they began running stories like the Rocky Mountain News's "Flying Blind into a Mountain of Debt: The Untold Story of how Denver Hitched its Destiny to DIA and Closed its Eyes to a Gathering Storm of Doubt."
Actually, this "untold story" was the subject of my cover article in the December 1993 American Spectator. Others had attempted to sound the alarm long before I did. Said one of them, Aviation Systems' Boyd, "They've had this information for years but wouldn't release it because it might harm the project." The Rocky Mountain News reporter assigned to cover DIA, Kevin Flynn, actually ran a series called "Myth of the Month" to counterattack airport criticisms. He once sent an angry later to the Associated Press after it ran a piece critical of DIA.
After I sent a draft of the American Spectator article to a News columnist who was critical of DIA, another News staffer leaked it to airport officials who "leaned on me" as the expression goes and made an investigation into my background to find dirt.
As for the Denver Post, in response to a reporter revealing how incredibly far away the new airport was, the newspaper transferred his editor, Al Knight, to the editorial staff. This was under a publisher who had already given some $70,000 in political contributions to the airport project. The publisher later departed, but reporting on the airport project remained lax. Says Knight, "I think unconsciously or semi-consciously, the newspaper sort of took some time off."
"Denver and Colorado, from a government point of view, is one of most corrupt places in country," says Boyd. But corruption, like cockroaches, needs dark corners.