One in three young black men is serving a criminal sentence, according to a new report that has received wide media coverage. Depending on your perspective, the timing couldn't have been more ironic or more fitting, coming as it did on the heels of the "not guilty" verdict in the O.J. Simpson case. Could this be what Simpson attorney Johnnie Cochran was talking about when he urged the jury to "send a message"? Was the message that blacks are tired of blacks behind bars?
There are certainly a lot there, though perhaps not as many as you might think from the news stories. In the report, the Sentencing Project, an advocacy group that favors alternatives to prison, estimates that on any given day 32 percent of black men ages 20 to 29 are serving a criminal sentence. That's 827,400 young black men. But what most of the news stories didn't tell you was that the majority were not behind bars but on probation or parole. If you don't think that's an important distinction, then you've never been in jail or prison and have never talked to anybody who has.
The Sentencing Project study quite deliberately blurs this distinction, as when it says that "about 3/4 of all offenders under supervision have been convicted of a non-violent offense." True, but a 1991 Department of Justice survey of state prison inmates found that of those actually incarcerated, half had committed violent crimes and fully 94% had either committed a violent crime or had received a previous criminal sentence. It's a good thing that the Sentencing Project didn't actually focus just on prison sentences, because the reality is that they have become a joke.
Consider the four original suspects in the killing of British tourist Gary Colley at a Florida rest stop two years ago. One already had at least 56 prior arrests by the age of 13; another had more than 30 arrests and a third had at least two dozen. The 13-year-old was released for lack of evidence and most recently was arrested for kidnaping and robbing a pizza deliverer at gunpoint.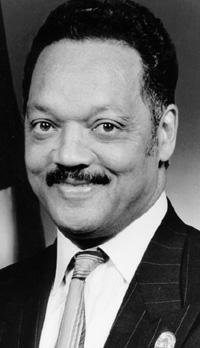 Rev. Jesse Jackson
But the media reporting on the Sentencing Project study didn't go into any of this. Nor did the Rev. Jesse Jackson when he cited it at his "Million Man March" speech. Instead they concentrated on the disparity between black and white sentencing, noting that only 6.7% of 20-29-year-old whites were ending up on the wrong side of the law.
To its credit, the study did not simply scream about racism, although the media attempted to portray it that way. It doesn't accuse all cops, or judges for that matter, of being Mark Fuhrmans. Rather, it says, the great majority of the increase in sentencing for blacks in recent years has come about because of a disproportionate emphasis on jailing those involved with crack cocaine usage.
Crack cocaine, it notes, is far more of a black problem than is powder cocaine, therefore discriminating against crack users and dealers means discriminating against blacks.
But there is good reason to discriminate between types of cocaine. Several studies have concluded, as did that of Rutgers University researchers Kolin Chin and Jeffrey Fagan, that "arrest and conviction data suggest that violence and participation in drug selling are more strongly associated with crack than with cocaine [powder].
"The evidence is quite clear," American Enterprise Association Resident Scholar Doug Besharov told me. "Crack is a more addictive, violence-creating drug than is powder cocaine. Period."
Further, the charge of drug possession is often used when the offender has committed other crimes that are much more serious but harder to prove. It is also often used in plea-bargaining cases, wherein the accused agrees to plead guilty to the least serious offense with which he has been charged.
Besharov says, "There's no doubt that crack has assaulted the black community." Indeed, so have black criminals. Ninety percent of their victims are black themselves. White liberal do-gooders such as make up most of the staff at the Sentencing Project have little to fear if we slacken our efforts at criminal enforcement.
There's no doubt there's something pathologically wrong in a society in which a third of the members of the second-largest race are involved in the criminal justice system. Throwing young men in prison or putting them on probation or parole doesn't solve this problem. The ultimate solution lies in getting rid of government programs that break down the family, like Aid to Families with Dependent Children, in improving the quality of public schools, in fostering a culture of personal responsibility and in no longer blaming racism for every black problem.
So long as business as usual goes on in the black inner-cities, they will produce vast numbers of criminals and many of these will wind up in the penal system. And business as usual, it is. After the O.J. Simpson verdict, one Nation of Islam leader called on Simpson to become an active symbol for the nation's troubled black youth. Jesse Jackson gushed, "O.J. can now be a big force, in my judgment, in taking the lead against domestic violence."
Egad! And John Wayne Gacy should have opened a home for wayward boys while Jeffrey Dahmer should have become president of the National Restaurant Association.
No, putting away young black men doesn't cure the problem. But until we're willing to apply the cure, it can keep the problem from becoming that much worse.