Voters who still can't see a dime's worth of difference between George Bush and Bill Clinton might want to consider the impact this year's election could have on the federal judiciary.
The arithmetic by itself is compelling:
If Bush wins, nine of every 10 federal judges in office in 1997 could be Bush or Reagan appointees. Their appointees so far have been judicial conservatives, a trend that is expected to continue if Bush is re-elected.
But if Clinton wins, and especially if he is reelected in 1996, the federal bench probably would have about the same number of liberals as conservatives.
Given federal judges' role in interpreting U.S. law in areas such as workplace safety and environmental regulations, property rights, and civil rights as they pertain to hiring and firing, among other issues, the occupant of the White House next January will be of particular importance to business.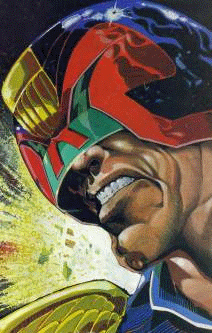 Judge Dredd: "e;Democracy is not for the people!"e; (A possible Clinton appointee?)
While the types of judges that Clinton would appoint is less than clear at this point, recent studies have found a stark contrast between federal-court decisions handed down by appointees of Democratic and Republican presidents.
Judicial appointments is one area in which Bush's record seems clear. President Reagan made it a practice to appoint strong conservatives to the federal bench.
Conservatives count these appointments among Reagan's greatest legacies. For all the flak he has gotten from the right, Bush appears to have continued that legacy.
A "tour de force" and "even better than Reagan's" is how Clint Bolick, vice president and director of litigation at the conservative Institute for Justice, describes Bush's judicial appointments.
Liberals concur. "Bush's effort to place ideologues on the court," said Nan Aron of the Alliance for Justice, "is being pressed with as much intensity as it was by Ronald Reagan."
"Bush has made the judiciary more solidly conservative without spending a lot of political capital on the issue," added Bolick.
"Solidly conservative" could become "rock solidly conservative" if Bush wins a second term.
As of January, Reagan-Bush appointees represented 64% of all federal appellate court judges, with majorities on nine of the 13 appellate courts, according to a survey by the Alliance for Justice.
More than half the nation's 828 federal appeals and district court judges were appointed by Reagan or Bush. The district court is where the case is first heard. The appellate court is where the case goes if one or both sides wish to contest the ruling.
By the end of a second Bush term, more than 90% of all federal judges could be Reagan or Bush appointees, according to the National Journal. By comparison, during his 12 years in the White House, Franklin Roosevelt appointed 81.4% of the federal judiciary.
The scales could tilt dramatically the other way if Clinton becomes the next president. Assuming normal turnover on the federal bench, Clinton could appoint as many as 400 new judges over eight years. And the change could come even faster, according to some analyses.
Many Bush and Reagan nominees have been quite young and won't be stepping down for years. But because of a slowdown in Senate approvals prompted by the possibility of a Democratic president to fill those positions, a number of vacancies will await the new chief executive.
"There are still 117 or so nominations pending to be filled," said Glenn Lammi, chief counsel for the legal studies division of the Washington Legal Foundation, a conservative litigation group.
"He (Clinton) will have those right away, and you can expect some retirements. Also, it's possible that the Democratic Congress can create more vacancies. There's always been talk of creating a national appeals court between the Supreme Court and the Courts of Appeal," Lammi said.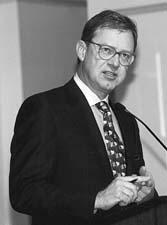 Hillary Clinton questions a potential court nominee.
Hillary Clinton has long been a legal activist on several issues. During the Carter administration, she served as chairwoman of the board for the Legal Services Corporation. Critics of LSC, such as Reagan, have denounced it as a tool of social and political change disguised as a service provider for poor persons' legal needs.
According to current LSC spokesman Ken Bohm, Hillary Clinton's four-year term "was a period when Legal Services was involved heavily in the advocacy of legal reform issues" — so much so that it resulted in a flurry of national attention and a series of laws from Congress seeking to clip the agency's wings.
Mickey Kantor, Clinton's national campaign manager, also sat on the LSC board with Hillary Clinton.
Lammi believes that when picking judges, "Clinton would be hard-pressed to not let her be involved."
In April, The New York Times reported that "several well-connected lawyers" said Hillary "plays a largely unseen but important role in determining who is appointed to important court seats" in Arkansas, and that commentators in that state said this suggested a similar role if she moves to the White House.
Frank Askin, a professor of constitutional law at Rutgers University and general counsel for the American Civil Liberties Union, told Investor's Business Daily, "Since 1980, the courts have turned hostile to civil rights concerns, civil liberties concerns, and environmental concerns, and I would expect a judicial turnaround. I don't think there can be much question of that."
Askin said that, while Clinton is considered to be moderately liberal, he will probably end up drawing from the ranks of very liberal judges.
"I certainly think it's true that as a Democratic president he's beholden to a much different constituency" than Reagan or Bush, he said.
Observers say that a number of legal areas might be affected under a Clinton administration.
One of them may be property rights. The concept of property rights already is in flux, with a steady trend toward allowing owners to recover financial damages when regulations significantly impair the use and value of their property.
"It's not just an aberration of right-wing courts," said James Burling, an attorney with the Pacific Legal Foundation in Sacramento, considered the nation's leading property rights legal-interest group.
Liberal judges have become more sympathetic as well, he says. "But certainly the tendency of both Reagan and Bush to appoint judges who are sympathetic to protecting economic rights under the Constitution as much as civil rights" has been significant, he added.
Still, says Burling, there is a chance that a number of new Clinton appointees could change this.
"The courts have taken a number of steps forward but haven't quite crossed the line yet," he said. "I don't see Clinton-Gore judges as being as sympathetic toward property rights (being) diminished as a result of environmental regulation."
Antitrust law does not appear to be an area that is ripe for change — Clinton or no Clinton.
Judges appointed by President Carter voted twice as often to reject corporate acquisitions, according to a recent study in the Fordham Law review. But the author of that study, William E. Kovacic, a law professor at George Mason University, said that conservative antitrust theory has become so accepted and non-controversial that some Carter-appointed judges have "accumulated antitrust voting records that match or exceed the conservatism of prominent" Reagan appointees.
One area to watch will be tort reform.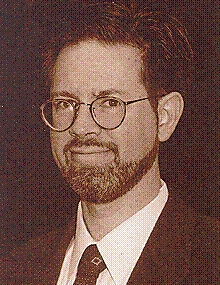 Wally Olson
Though considered a conservative issue, "trends in judicial thinking (about tort reform) . . . cut across party and ideological lines," said Wally Olson, a senior fellow at the Manhattan Institute and author of The Litigation Explosion.
"There have been a whole bunch of what I see as heartening decisions in the states," he said. "And . . . there have been a lot of judges appointed as Democrats or who have run for office as Democrats or who are known as liberals" who have made those decisions.
So, said Olson, "Within fairly broad grounds it is quite thinkable that appointments of Democrats could continue trends that I like.
"Having said that," Olson added, "if, as it has been rumored, Hillary plays a role in the selection process, then it's 'Katy, Bar the Door.' You'll get judges who believe it's their duty to reshape society. Throwing out tort reform could be part of an activist agenda."
Lawyers and lawyer-lobbyists are the biggest source of Clinton's campaign funds, accounting for $2.6 million, according to the Center for Responsive Politics in Washington.
The president of the Arkansas Trial Lawyers Association has written, "I can never remember an occasion when he failed to do the right thing where we trial lawyers were concerned."
"It's a fair question," commented pundit Barone, "where Clinton stands on tort reform. And (it's) fair, so long as he is silent, to call him an ally of trial lawyers."
Concerning environmental regulations, Professor Kovacic wrote in the Boston College Environmental Affairs Law Review last year that Reagan-Bush judges are more likely to issue rulings "that would reduce the burden of compliance" in meeting Clean Air Act and Clean Water act standards than are Carter judges.
Still, Bill Walker, a spokesman for Greenpeace International in San Francisco, says he has no real complaints and therefore no great expectations from Clinton appointments.
While Walker said that the day could come in which new judges appointed by a Republican administration could start to change this, "I have to be honest and say that right now, environmentalists still consider the courts their friends."

A special worry for employers, according to Olson, should be how the present and future judiciary will interpret the Americans with Disabilities Act of 1991, which goes into effect this year.
To the extent that racially-based civil rights claims are an indicator, it is noteworthy that according to a 1989 study by University of Kansas Professor C. K. Rowland and University of Houston professor Robert Carp, Reagan-Bush appointees agreed with plaintiffs that filed racial discrimination suits 13% of the time, while Carter appointees upheld the discrimination claims in 59% of cases.
"If I were a lawyer trying to advise an employer, (the Americans with Disabilities Act) is the sort of thing that would have me worried about a Clinton judiciary," Olson said.
"The law is vague enough and Draconian enough that, even if enforced by a conservative judiciary, it's going to have employers bouncing off the walls," he said.
"Enforced and interpreted by judges who feel a sense of mission to push the law further than its literal content, there is no end to burdens on the economy that could result.
"There's already talk," Olson continued, "of 'learning disability' — that is, slowness, as being a protected category," and, likewise, the inability to get along with others.
"You could ultimately find that all the reasons once considered legitimate to fire people are open to challenge."
Depending on who's sitting on the bench, Olson said, "You may find a common-sense test being applied, or you may have judges who are fascinated and attracted by the idea of turning human conduct and failings into open-ended legal protections."