If a scare story hits the national news media one month, it's becoming a sure bet that a few months later Mike Fumento will follow with another story revealing the original scare story was an exaggeration bordering on a hoax.
Lately, church burnings have been in the news. It's a nationwide epidemic, as the story line goes, spurred by a conflagration of racism and white conspiracy. It's a hot story, one that drew denunciations from no less a figure than President Clinton. But it is also another fraudulent news story based on manipulated statistics and driven by political ideology, according to Fumento.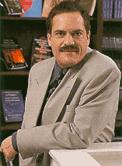 This past Monday, Fumento, a Champaign native and a University of Illinois law graduate, followed the screeching newspaper headlines and dramatic network television news accounts with an article in The Wall Street Journal denouncing the story of an epidemic of burnings of black churches as "a myth."
"Indeed, a deliberate hoax," Fumento wrote in the article that appeared on the Journal's op-ed page. "There is no good evidence of any increase in black church burnings in the South or anywhere else. There is, however, evidence that a single activist group has taken the media and the nation on a wild ride."
So there Fumento goes again, standing the conventional wisdom on its head and backing it up with a thorough examination of arson statistics. He delights in such challenges, although Fumento does acknowledge that a hyped story, like an epidemic of church burnings, sells more than his efforts to set the record straight.
"I'm anti-hype. Hype sells. Anti-hype doesn't," he said.
Still, Fumento is keeping busy. His most recent book, Science Under Siege, is coming out soon in paperback. He's finishing up work on his newest book, The Fat of the Land, a public policy/self-help book on the growing health problem of obesity in the United States. And he's writing weekly news columns (some of which are published in The News-Gazette) on science issues for Reason magazine.
Fumento is hopeful his Journal article will make a big splash nationally, although he's aware that his challenges to conventional media wisdom often are ignored.
Still, his examination of the statistics is compelling.
In his article, Fumento noted that the story on the church burning epidemic resulted from a March press conference by the Atlanta-based Center for Democratic, Renewal. The CDR released statistics that purported to show that there had been a dramatic increase in arsons involving black churches in the South and alleged that they were racially motivated. National news organizations, like USA Today and the television networks, picked up the story and gave it heavy attention.
But Fumento reveals that statistics kept on the subject of burnings of black churches are incomplete at best and, in many cases, only recently were started. He also notes that blacks as well as whites have been arrested in connection with those fires that actually were arsons. And finally, he noted that statistics provided by the National Fire Protection Association show church arsons to be down dramatically since 1980.
"While their data don't break down churches by race, they show something significant: a dramatic drop in the number of church arsons, from 1,420 in 1980 to 520 in 1994," Fumento wrote.
He acknowledged the heinous nature of any church arson, but also noted that hype over the story has spurred so-called copycat crimes.
"Here lies the ultimate irony of what the (Center for Democratic Renewal) has started and the media have continued. By claiming there has been an epidemic of black church burnings, it appears that in recent months they have actually caused one. They have also fomented tremendous racial division and caused great fear among Southern black churchgoers. That which the Ku Klux Klan can no longer do, a group established to fight the Klan has done for them," Fumento wrote.
So where will the story go from here? Right where other wildly exaggerated scare stories, like the reported epidemics of murders of tourists in Florida and unprovoked attacks by maniacal pit bulls, have gone.
"In a few weeks, it will be back on page 10 of the newspaper. And a couple of months from now, it'll be gone. That's the way it always works," he said.
As for Fumento, he's on to other stories, too. He's been working on an upcoming ABC News special with ABC correspondent John Stossel. The subject? What else? Junk science, or how misrepresenting the public health threat posed by scientific advances is needlessly scaring the American people.